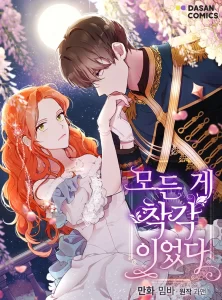 Chapters: 61
Status: Ongoing
Genre: Drama, Fantasy, Historical, Isekai, Manga, Manhua, Manhwa, Romance
Ratings: 4/5
Synopsis:
Roa Valrose reincarnated as villainess in the book. In order to avoid the fate of being burned at the stake, she approaches the hero, Nocton Edgar. It hurts every time she gets closer to him. Nevertheless, for her survival, she does everything he wants her to do. "Come again, Valrose." The mysterious Nocton unexpectedly sought her out every day. Then one day, her friend for 10 years says something unknown to her. "Actually, I have a dream. The Duke of Edgar is a terrible villain!" He is not the hero, but the villain? As soon as she realized that she had misinterpreted the role, she decided to get away from Nocton. "Let's not meet anymore." But the villain's reaction was strange. "Don't go. You've always been special to me." She was suspicious of his sudden change of attitude. Will she able to get rid of Nocton safely?
Review
*MIGHT CONTAIN SPOILERS! READ IT AT YOUR OWN RISK! IF NOT, READ THE REVIEW ON MY IG PAGE.*
Quite messy and screwed up. A lot of miscommunication and misunderstandings which I believe they can be clear about. I find the FL's friend (Alice) pretty shady. For all you know, she might actually be the villain in the story and not Nocturne. Aaron is another screwed up guy and I must say that he is doomed for death because he joined hands with Nocturne to kill his mum. Even though I did say that it was messy, it was pretty interesting and like one of the other manhwas I have said this same comment – it is difficult to know what will happen in the future because this is not your typical manhwa. We don't really know who the heroine and the villain are but my guess is that Alice is the Villain while the FL (Roa) is the heroine. 4 because it is quite easy and enjoyable to read, plot quite questionable.
Characters
*Lazy*
Other Links
Novel
Spoiler
Social Media
You might also like:
~ THANK YOU ~
Follow @watashiwakurousagi for more!