BEIJING

Beijing is the capital city of China. So you must surely visit Beijing if you go to China.
The setting of the Chinese BL Novel, "Are You Addicted" is the suburbs of Beijing. I was intrigued by the simple and unpretentious lifestyle of Gu Hai and Bai Luoyin when they were college students riding bicycles to school. And also the tanghulu that Bai Luoyin loved to eat. I've never tasted them before so I had to try them when I got to Beijing. I liked the tanghulu at Niu Street best.
The last time I visited Beijing was like more than 2 decades ago. At that time, I was helping to set up a PABX at a lab in Tsinghua University. The sanitary conditions were terrible at that time and spitting was rampant on the streets. 2 decades later, Beijing had progressed and modernised so much that it has gone so far as to be a cashless society where we can even pay street vendors using AliPay or WeChat Pay. The transport network was amazing and the bread and traditional pastries at Holiland were just so heavenly, they brought tears to my eyes. Okay… I might have exaggerated but really, you must try the traditional pastries at Holiland! And of course, there's lots of food to try in Beijing like the Peking ducks, dumplings, roasted lamb stick, street snacks and many other local delicacies. In fact, I still had a long list of restaurants and eating houses that we hadn't managed to go yet, so maybe next time!
It was winter in December when we visited Beijing. All the friends I knew went holidaying in Europe and Japan. But for me, it's got to be China because hotel rates were a lot cheaper, like less a hundred bucks and the attractions had a lot lesser people! So, in places like the Great Wall, there was indeed a lot lesser crowd!
Check Out
Accommodation
Street View of Dong Si, Beijing
ACCOMMODATION
One of the best ways to immerse into the ordinary life in the city was to stay in the hutongs of Beijing. Hutongs are very traditional old alley houses but some of them had been renovated and some are being preserved. In fact, our stay was very comfortable and the experience was a really unique one. The nice hutongs had a lot of character in them and it was a good way to walk around the streets, visit the shops and try the local street food and snacks.
Nevertheless, you can also expect the sound proofing of the rooms to be inadequate and these hutong hotels usually do not have amenities like gyms and swimming pools.
Beijing Double Happiness Courtyard Hotel
Ratings: 5/5
I love the traditional furnishings – the red traditional poster bed with curtains that came with modern-day luxuries like free wi-fi, bathroom and TV. Breakfast buffet was great too! We had both Chinese style breakfast – dumplings, fried noodles, fried rice, pickled vegetables, traditional pastries, buns, soya bean milk, porridge and so on. And Western style breakfast – cereals, pastries, fruits, toasts, orange juice, coffee and so on.
We popped by one another's rooms, sat in the courtyard and chit chatted and enjoyed the cool night in -1 degrees celsius. Our stay here was really unforgettable.
Beijing 161 Lama Temple Courtyard Hotel
Ratings: 5/5
We arrived at this hotel very late at night on Christmas Day 2019. This was the day we were in Harbin earlier during the day and in Beijing at night. The staff were waiting for our arrival and it was almost midnight by the time we got off the train and took a cab here. We checked in smoothly and were comforted by the good conditions of the warm rooms and bathrooms.
Breakfast was simple and we could order anything at the concierge the night before – local breakfast or western style breakfast. Of course I've opted for local breakfast! The furnishing was not totally traditional in this hotel, but it was definitely a different experience compared to staying in a 5 or 6 star hotel.
PLACES TO VISIT
If this is your first time to Beijing, then I'll strongly recommend these 10 places which you must visit!
1. WANG FU JING
Wang Fu Jing is a shopping district in Beijing, China, located in Dong Cheng District. You can reach there taking the underground train. You can shop, try the street snacks, and try Peking duck at Si Ji Min Fu restaurant there.
2. NAN LUO GU XIANG
We stayed in hutongs and Nan Luo Gu Xiang is one of the shopping district hutongs that you must definitely visit. There are many street food and snacks, souvenirs, handicraft, tang hulus, stickers, CDs, Chinese drama idols' posters and so on. You must try the Wenyu Nailao. It's is soft cool curd topped with desserts like fresh mango or sweetened soft red beans. There are other flavours too. According to hearsay, Wenyu Nailao originated from the imperial kitchen.
3. TIAN AN MEN SQUARE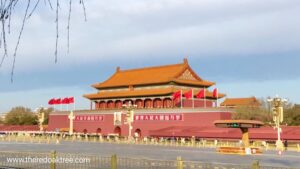 There's flag raising and flag lowering and change of guard ceremonies. If you are interested, you can check out the timetable for the day, but it might get crowded. I had planned to see the flag raising ceremony, but the others were just too tired to wake up, especially during winter. 😂 This was where the Tian An Men Massacre happened in 1989, but China has progressed by leaps and bounds and I am sure the government has changed for the better as well as the lives of her citizens, way way better now. There's security checks here and the architecture look just so awesome.
4. THE FORBIDDEN CITY
This is the second time I visited the The Forbidden City. This is essentially the heart of Beijing and the city grows outward from this very location. It is the Palace that the Emperors and their concubines and family lived many centuries ago. Despite my second visit here, I am still awestruck by this place and felt a sense of nostalgia of the dynasties and palace life of long ago that I've watched in Chinese dramas. I loved watching Chinese drama series like "Story of Yanxi Palace" 《 延禧攻略》and "Scarlet Heart"《步步惊心》. Here, I felt like I was inside a very different world. The buildings and architecture are just so breathtaking that no word could describe how I felt.
5. JING SHAN PARK
This is not any park in Beijing. This park is located directly opposite the Forbidden City and the best time to get there is in the evening during sunset. You can climb all the way to the top and have a bird's eye view of the Forbidden City. You can expect crowds and if you are lucky, a very charming evening sunset.
6. TEMPLE OF HEAVEN
The Temple of Heaven is located southeastern of the central part of Beijing. It was visited by the Emperors of the Ming and the Qing dynasties for annual ceremonies of prayer to Heaven for a good harvest. Again, I was gripped with a sense of nostalgia, imagining the great and almighty Emperor and his entourage of eunuchs, courtiers and imperial soldiers walking towards the Celestial Heart Stone to make his prayer to Heaven
Check out the Echo Wall! It is located in a distance away from the Temple of Heaven. You can get someone to stand on one end of the wall while you stand on the other end. Then talk to the wall and the other party will be able to hear you!
7. GREAT WALL OF CHINA (MUTIANYU)
One of the Seven Wonders Of The World. This is totally a must-visit when you come to China, or you will regret it. The Great Wall is a breath taking monument that is built across borders of the country on mountain ranges to protect as well as mark the territories of the Chinese states and empires. It was built as early as the 7th century BC and could even been seen from the satellite. The popular entrances of the wall are Badaling and Mutianyu. I went to Badaling before and Mutianyu was more attractive as there was a Tobogan ride down the mountain and cable car rides. And we did all these during winter!!!
It was not really that cold at the Great Wall during winter in December as I had anticipated, but you bet the crowd was a lot lesser than other seasons. I planned that all of us had climatized to the cold weather and Great Wall being the last stop before we left Beijing to brave the bitter cold in Harbin!

8. SUMMER PALACE
Many stunning views here. There are several stone lions on the bridge and sunset here at the Summer Palace was just so enchanting. My group arrived here around evening time after visiting the Great Wall, just in time to see the beautiful sunset, we would probably need an entire day to walk all around the Summer Palace. Seriously, a wonderfully planned itinerary brought smiles to everyone's faces and everyone was well rested in the car ride as we ended our day with very delicious scrumptious meal of dumplings at Mr Shi's Dumplings.
9. LAMA TEMPLE
The Lama Temple or Yonghe Temple was built in 1694 during the Qing dynasty. It was later converted to the residence of the fourth prince, Yinzhen who later succeeded the throne as Emperor Yongzheng. This reminded me of the Chinese drama, "Scarlet Heart" which I had watched several years back.
There was a huge buddha statue in one of the temple buildings and bundles of incense sticks were given to visitors. It was a long queue into the temple to see the statue but it's worth it after coming all the way here. Again, this temple was really charming and definitely worth a visit!
10. BEI HAI / SHI CHA HAI / HOU HAI / DRUM AND BELL TOWER
My group ran out of time to visit these places. We managed to visit Shi Cha Hai whilst 2 other members went ahead and visited the Drum and Bell Tower and bought dumplings from the shop I had initially wanted to patronise. Initially, I had planned to visit these places to see if we may skate on the frozen river, but apparently the river was not entirely frozen yet. Well, next time then!
PLACES TO EAT
Planning what to eat and where to eat is really important especially when we bring our family members along on a trip, so that the meals meet most or all of their dietary requirements. Besides, it helps us save time and travelling costs. Before our trip, I did some research and shortlisted a list of food and street snacks that I wanted to try and the local eateries that I wanted to experience. Thanks to reading Chinese BL Novels which got me really interested in Chinese cuisine! The list of must-try food include – Peking ducks, bing tang hulu, door knob meat pies, Uyghur cuisine, BBQ lamb on skewers, Old Beijing Zhajiang Mian, pot stickers and dumplings!!!
1. PEKING DUCK 北京烤鸭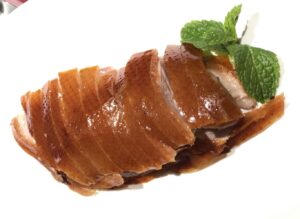 This is a must try dish in Beijing! This dish is not easy to cook at home since it involves some elaborate cooking process, time, patience and special roasting equipment for the duck to be "inflated" and roasted to perfection. The restaurant staff will separate the duck skin from the duck meat. The duck skin is brown, thin and crispy and it is usually eaten rolled up in an egg wrapper along with some thinly sliced cucumber and spring onion and sweet sauce. Eating the crispy duck skin alone taste just so heavenly!!! The restaurant staff will usually ask if we wanted to the add the duck meat into fried rice or fry them with other vegetables or just eat it as it is.
Quan Ju De 全聚德烤鸭店 is Beijing's oldest traditional Peking duck restaurant. There are many other restaurants which serves the best Peking ducks like Da Dong 北京大董烤鸭店, Jing Ya Tang 京雅堂烤鸭 and Si Ji Min Fu 四季民福烤鸭店. Eventually, we settled ourselves at Si Ji Min Fu at Wang Fu Jing, since it was along the way and convenient.
The duck skin was superbly crispy and delicious and the traditional glutinous desserts were very unforgettable!
四季民福 Si Ji Min Fu Peking Duck
Address: 53号东安门大街 万程华府酒店1楼, 东城区, 北京
53 Dong An Men Street, Wan Cheng Hua Fu Hotel Level 1, Xi Cheng District, Beijing
Tel: +86 10 6523 8571
Some more Peking Duck at Da Wan Ju Restaurant!
大碗居餐厅 Da Wan Ju
Address: 北京市-东城区-东四北大街343号银地宾馆2楼
No. 343 Yin Di Bin Guan Level 2 Dong Si North Street, Dong Cheng District, Beijing
Tel: +86 10 6402 2800
2. DOOR KNOB MEAT PIE 门丁肉饼
The reason why this dish is called door knob meat pie is because it looks like a door knob! This beef meat pie must be eaten fresh and hot so that the saucy juice inside the pie oozes out! Yummy!!!! I have shortlisted a few eateries to try but we ran out of time. Sad … 🥲
惠丰门丁肉饼 Hui Feng Men Ding Rou Bing
Address: 北京市-西城区-护国寺大街67号-69号
No. 67-69 Temple Street, Xi Cheng District, Beijing
Tel: +86 10 8322 3298
3. HOT POT火锅
According to the locals, the most popular hot pot restaurant is Ju Bao Yuan 聚宝源 at Niu Street 牛街. Located amidst the muslim Hui ethnic community, there are many halal supermarkets, restaurants and small eateries. Right beside the restaurant is the famous traditional glutinous rice cake shop, Bai Ji Nian Gao 白记年糕. And right beside and behind this shop is the supermarket where I tasted the best bing tang hu lu 冰糖葫芦 and the best tasting fermented milk curd, Nai Lao 奶酪!
The spicy BBQ mutton on skewers 烤羊肉串 are just heavenly! I'm not a mutton person and I won't touch mutton at home. But here, I've never tasted such delicious mutton before! The peanut sauce dip here hits the right spot when the hot pot items were dipped into them.
聚宝源火锅城 Ju Bao Yuan
Address: 5-2 Niujie St, Xicheng, Beijing, China 
Tel: +86 10 8354 5602
4. DUMPLINGS 水饺
Mr Shi's Dumplings 老石水饺 offer the most variety of dumplings – deep fried, pan fried and boiled any many combination of fillings. It's like there's something for everyone. This restaurant also serves other favourite local cuisines.
老石水饺 Mr Shi's Dumplings
Address: 88 Bao Chao Hutong, Dongcheng Beijing, China 
Tel: +86 10 8405 0399
5. HOLILAND 好利来
I am truly impressed with this bakery cake shop!!! You must step in to take a look! The birthday cakes are gorgeous, so are the bread. But what fascinated me most was their traditional pastries! I regretted not buying too many boxes home as I could have given them to friends and relatives and then keep some at home to eat. Trust me, their flower pastries, salted egg pastries and etc are just so heavenly! Their chick pastry was a hit with our little one. I just got to BUY! BUY! BUY!!!! 😍
There are many outlets all over Beijing, but there aren't too many in other cities.
WHAT ELSE TO TRY?
Due to time constraint and my ambitious itinerary, we ran out of time to experience some of the restaurants. One of them was the Xinjiang Crescent Moon Uighur Muslim Restaurant which was just 7 mins walk away from the hutong we stayed in. I was interested in the Uyghur culture after reading My Little Poplar and thought that one day I would visit Xinjiang during winter.
Another one was Bai Jia Da Yuan 白家大院 restaurant. I was eager to spend a fortune to experience Qing Dynasty style imperial dining. But we ran out of time after returning from the Great Wall and Summer Palace and our driver had to ditch us and go home for dinner. I comforted myself that it was better to visit this restaurant during spring or summer, so that I could take better pictures of the waiters in Qing Dynasty palace costumes against the lush greenery in that restaurant.
Trust me, I still have a long list of food and restaurants which I want to try here in Beijing. I'll definitely be back!