I don't trust my twin sister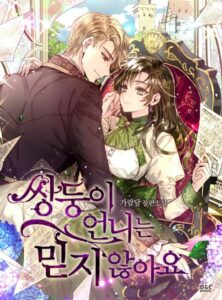 Chapters: 22
Status: Ongoing 
Genre: Drama, Fantasy, Manhwa, Romance, Shoujo, Webtoons
Ratings: 5/5
Synopsis:
The richest woman in the world, Laurencia Aztane, had success in both work and beauty, but her life was miserable. She worked day and night to protect the one and only family, her weak twins, Erusia. However, she discovered a cruel truth that the illness of her sister, Erusia, was a complete lie, and that she was cooperating with her fiancé to buy all of her property. At the moment Laurencia was forced to turn her back on her pain and remorse, she had gone back eleven years before her engagement. Her faith in Erusia, her affection for her fiancé; all of it could go to hell. Listen carefully, Sister, there is no good sister now. I pledge to redesign my life. The first thing is, I have to be tied up with a national hero whom the scumbag in the past cannot possibly deal with "I'll take care of the debt that you took unfairly. Instead, be my marriage partner, Grand Duke Verdian."
Review
*MIGHT CONTAIN SPOILERS! READ IT AT YOUR OWN RISK! IF NOT, READ THE REVIEW ON MY IG PAGE.*
Not a lot of chapters but sufficient enough to tell that it is interesting and very good to read (though I hope the interest does not just end at the start of the plot). I understood why her sister was jealous of her but never understood when her sister hated her. I don't think FL deserve to be hated by her sister especially when the FL cares a lot for her. This is the typical strong FL isekai romance story but there must be some dark magic in there…I wonder what. 
Characters
*Lazy*
Other Links
Novel
Spoiler
Social Media
You might also like:
None
~ THANK YOU ~
Follow @watashiwakurousagi for more!