What I decided to die for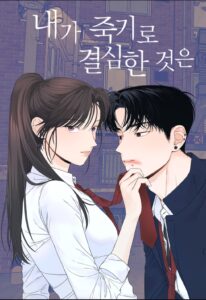 Chapters: 61
Status: Ongoing 
Genre: Comedy, Drama, Manhwa, Romance, Shoujo, Slice of Life
Ratings: 4/5
Synopsis:
Ji Oh, a senior in high school who was injured ahead of the National Taekwondo Competiton, is facing late puberty. Cha Gyeol, who met Ji Oh while having all sort of bad thoughts, is completely swoon over by Ji Oh with her dazzling smile. However, the people around Cha Gyeol are somehow dangerous for her to go head over heels with him. Her mind knows that she should be wary of him but she could not stop her interest towards Gyeol. Is it alright for her…to like him?
Review
*MIGHT CONTAIN SPOILERS! READ IT AT YOUR OWN RISK! IF NOT, READ THE REVIEW ON MY IG PAGE.*
Interesting yet confusing…I really love the ML and the interaction he has with the FL but I feel that the plot is quite dark, disturbing and complicated. It is mysterious because while reading this, I was confused on what her dreams meant and could barely decipher what was going on. On top of that, what is the ML doing and what is happening? I might drop this or continue reading this just for the ML.
Characters
*Lazy*
Other Links
Novel
Spoiler
Social Media
You might also like:
None
~ THANK YOU ~
Follow @watashiwakurousagi for more!