Ellin's Solhwa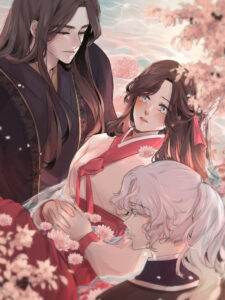 Chapters: 50
Status: Completed 
Genre: Webtoon , Josei(W) , Drama , Fantasy , Full Color , Historical , Isekai , Reincarnation , Romance , Time Travel , Tragedy
Ratings: 5/5
Synopsis:
The last thing Ellin remembers is having to deal with a belligerent customer at her dead-end job. And when she opened her eyes… she's "Solhwa," the beautiful fourth concubine to the king of the Xyaran Empire. Between trying to learn the language and eating steak, Ellin's trying to figure exactly what's going on. Where is she? How did this happen? And who can she trust: Solhwa's handsome charismatic childhood friend or the elegant, raven-haired king's advisor?
Review
*MIGHT CONTAIN SPOILERS! READ IT AT YOUR OWN RISK! IF NOT, READ THE REVIEW ON MY IG PAGE.*
Read this because people said that it was really good and they even read it multiple times and I  strongly agree with that review. It was really good, cliche and I love how this turned out instead of the couple being separated in the end and one has to be taken far away then few years later returned back etc. It is short and sweet and makes things simple and concise.
Characters
*Lazy*
Other Links
Novel
Spoiler
Social Media
You might also like:
None
~ THANK YOU ~
Follow @watashiwakurousagi for more!