Nice to Meet You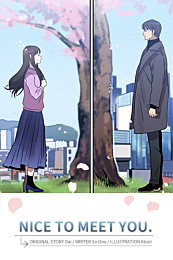 Chapters: 40
Status: Completed
Genre: Drama, Romance, Sci-Fi, Shoujo, Slice of Life, Supernatural
Ratings: 4/5
Synopsis:
Same place, different time – A time slip romance.
Review
*MIGHT CONTAIN SPOILERS! READ IT AT YOUR OWN RISK! IF NOT, READ THE REVIEW ON MY IG PAGE.*
Short, simple and sweet. Its a relatively simple sci-fi romance manhwa/manhua (wherever it is from) talking about time travel. Kind of reminds me of "Kimi no Na Wa".
The first chapter itself made it kind of confusing but eventually I got a hold of it and I must say though it is short, there is something happening every chapter and it keeps the reader reading for more (aka addictive). I also like how there is a lack of drama which makes it straight to the point but one thing which I didn't like was that there was barely any indication of time which should be the main focus of the story. I had to find the small details of time in the scenes which were simple but tedious. Sometimes it even leaves the reader thinking what is the time difference or what year is it now. I read this in one sitting so will highly recommend those who love this genre and also want to read super short manhwas/manhuas to read this.
Characters
*Lazy*
Other Links
Novel
Spoiler
Social Media
~ THANK YOU ~
Follow @watashiwakurousagi for more!