My Senpai is Annoying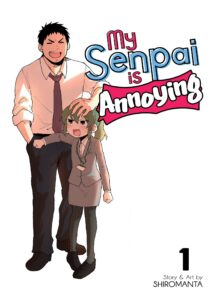 Chapters: 175
Status: Ongoing
Genre: Comedy, Romance
Ratings: 4/5
Synopsis:
At a certain trading company, saleswoman Futaba Igarashi has managed to hold her respectable job for almost two years thanks to the guidance of her senior coworker—Harumi Takeda. However, due to Igarashi's short stature, Takeda often teases her and treats her like a kid, leaving Igarashi constantly annoyed by his antics.
Despite this, Igarashi notices Takeda's reliability as he is always ready to help whenever something at their workplace goes awry. As Igarashi and Takeda spend more time together, their relationship soon develops further than simply being coworkers at the office.
Review
*MIGHT CONTAIN SPOILERS! READ IT AT YOUR OWN RISK! IF NOT, READ THE REVIEW ON MY IG PAGE.*
Every chapter contained cute, funny and lovable scenes be it the main couple or the side couple, all of them are cute! It is also like short stories and best of all, its coloured!!! There are 175 chapters but a lot of them were repeated so it should be less than 175. I love the vibe the characters are giving off and it reminds me of Gekkan Shoujo Nozaki-kun (yes I have watched it already) because where is the confession scene?!! *cries* Anyways, a tsundere girl and a dense guy…won't really expect a confession scene I guess. But overall, it was really good!!
***BY THE WAY!!! There is an anime adaptation has ended!!!***
Characters
*Lazy*
Other Links
Novel
Spoiler
Social Media
You might also like:
None
~ THANK YOU ~
Follow @watashiwakurousagi for more!