Winner Takes All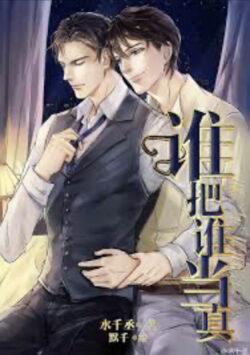 Winner Takes All
谁把谁当真

shuí bǎ shuí dàng zhēn
Author: 水千丞 shuǐ qiān chéng
92 Chapters + 4 Extras
Ratings: 4/5
I was actually reading "Silent Reading" by Priest until Chapter 138 but the plot got heavy and yet the BL content looks stagnant that for sometime I refused to continue with the novel. I'll read it again at a later time. After watching "Sleuth Of Ming Dynasty", a fellow BL fan asked me about the English translation for the novel "Fight The Fire" by Shui Qian Cheng which is not available yet since it's a 2019 work. So started reading "Winner Takes All" instead.
Shui Qian Cheng is one of my favourite BL danmei author due to her characteristic BL novel writing style – "dog blood" drama, hardcore sex, lots of frustrations and angst and betrayal. Her stories can bring all of us on a roller coaster ride of emotions sprinkled with pockets of honey-sweet moments.
If you have enjoyed reading Shui Qian Cheng's Beloved Enemy, Years Of Intoxication, Professional Stuntman, My Little Poplar  and In Love With An Idiot , you will surely love "Winner Takes All". My personal rating is 4/5. I really enjoyed this book from cover to cover and got so hooked that I never want to put this novel down. I wouldn't mind reading this novel all over again.
There are 3 other novels from this Shared Universe:
娘娘腔 niáng niáng qiāng featuring Shao Qun and Li Cheng Xiu
灰大叔与混血王子 huī dà shū yǔ hùn xuè wáng zi featuring Zhou Jin Xing and Ding Xiao Wei
附家遗产 fù jiā yí chǎn featuring Wen Xiao Hui, Adrian and Luo Yi
~SPOILER~
In his mid 30s, very handsome, rich, demure, rational and successful, LiShuo (MC) is every single person's dream partner.
Sent by his devilish rogue cousin Shao Qun, Zhao JinXin (ML) met LiShuo in the first class cabin in the airplane to the United States. Shao Qun was Li Shuo's love rival so he sent his beloved cousin, Zhao JinXin to LiShuo's side, hopefully to distract LiShuo's affection from his love interest.
Shao Qun and Zhao JinXin conspired so that ZJX to seduce LiShuo and keep an eye on LiShuo's movements. However, it was love at first sight for Zhao JinXin that he can't help but only think of sending LS to his bed.
Although LS and ZJX hit it off very well in the plane in the beginning, LS was later disgusted by ZJX's sexual advances in the plane cabin and proposal for sex in a swimming pool on the rooftop of his high rise condominium in New York City.
Later on, he found out that ZJX is his father's boss's son. The pair later fell in love but their honeymoon was short lived when LS discovered that ZJX was his rival's cousin. Due to the scheming Shao Qun and ZJX's conspiracy, LS's reputation was damaged and he had no choice but to sell away shares of his company to his business partners at a discount. He broke up with ZJX only to be reunited again after ZJX saved LS's father's life from a sudden heart attack and romantic gestures of love confessions.
But this 2nd chance of love is short-lived when LS overheard ZJX and Shao Qun's conversation in the hospital. LS had spent many days preparing to celebrate ZJX's birthday that day, only to hear of ZJX's mocking their love relationship. Utterly humiliated, heart-broken and devastated by this realisation, LS broke up with ZJX this time for good. Ok peeps.. I cried here… my family noticed my tears and I was busted… 😅
Alas, it was too late for ZJX who realised that he was too deeply in love with LS that he cannot live without him.
LS was ZJX's addiction. Spurred by LS's repeated rejection and jealousy, ZJX became an ultimate scumbag in order to win back LS's affection. ZJX did many unforgivable actions to LS like spoiling his dates with his friends and other potential partners, threatened and blackmailed sending his father to jail, interfered with LS's business cooperation with other partners and etc. His attempts were futile because whatever he did, LS wouldn't bat an eye. ZJX was at his wits end and desperate.
However, after lots of angst, frustrations and dog-blood drama, the couple finally reunited after ZJX volunteered to be the hostage of a group of gangsters/ kidnappers in place of LiShuo and almost lost his life to save LS. LS was touched by ZJX deep love, affection and willingness to lay down his life for him. Eventually the lovers got together forever. It's a happy ending!!!!! 💕❤️🎉🤩🥰
I love the chemistry and interactions between the MC and ML. Both are "1" (top) to begin with, but LS sacrificed to be a "0" (bottom) since ZJX's blood has difficulty clotting if he's wounded.
It's heartening to know that both MC and ML's parents are very rich, very close friends, open-minded and supportive of MC and ML's relationship. Not only that, MC is very well-liked by many of his friends who stood by him through thick and thin.
Finally, I enjoyed reading how much the scumbag ML was, such an asshole, domineering, tyrannical, possessive and scheming. Because of this, there's never a dull moment in the novel. Personally I like ML's obsession with MC. 😍 Eventually, this "great Leo" was tamed by his master, "sweet lamb" LiShuo. 🤣
English Translation: In Progress
Read it here:
1. https://www.wattpad.com/878871206-bl-winner-takes-all-%E8%B0%81%E6%8A%8A%E8%B0%81%E5%BD%93%E7%9C%9F-by-shuiqiancheng
Chinese Raw:
https://www.zhenhunxiaoshuo.com/sheibasheidangzhen/