Desharow Merman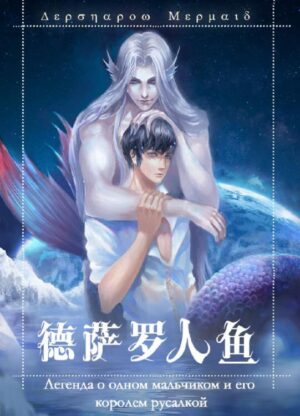 Desharow Merman
德萨罗人鱼

dé sà luó rén yú
Author: 深海先生  shēn hǎi xiān sheng Mr Deep
116 Chapters
Ratings: 5/5
⚠️ TAGS include: mature, violence, gore, cannibalism, incest, rape, paedophilia
For all the smuts, dark and guilty pleasures with a thrilling and engaging storyline, this bl novel is 5/5 stars!!!  🤩 ⭐️⭐️⭐️⭐️⭐️
Desharow Merman has a thrilling storyline about a young Russian marine biologist student who wanted to fulfill his life-long wish to research Merfolks (mermaids and mermen). Unfortunately, he was tricked and betrayed into going on an expedition and became a fish bait for the Germans to catch Merfolks to research on genes mutation.
When he thought that he had caught a merman, he instead, became the Merman's prey. He was raped repeatedly by the merman but eventually, he fell in love with the rapist.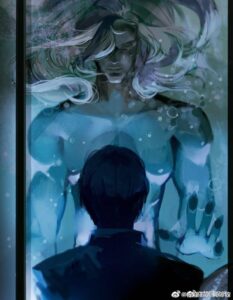 After all the evil plots and cruel schemes, deaths, time-travel, decades of separation and wars, the couple eventually returned to live peacefully in the Merfolk's world of Atlantis.
The MC is a classic case of having Stockholm syndrome and is a masochist who felt a tinge of pleasure when he was raped. 🤣
The ML, who is the merman had probably imprinted MC as his future spouse before MC was 6 years old. He took partial care of MC before he turned 6 but MC's parents brought him to Russia unexpectedly so they were separated. Subsequently, MC lost his memories of ML during his growing up years but only to start remembering them when he met Agares.
My personal thoughts: if the rapist and sex demon is Agares, a 300 year-old King of the Merfolks, why not? But that's letting my imagination run wild. 🤣😂😁😅 If I were Desharow, I will also be swooned by majestic and handsome Agares who pledged loyalty to 1 spouse only. BADASS AGARES is a damn erotic sex demon who loves Desharow to the moon! 🤟🥰😍 But then, Agares is not all perfect. As a king, he had his plans to protect his people and to strengthen his influence, he makes mistakes too to the extent of becoming a cruel dictator, not listening to Desharow towards the end of the novel and breaking his heart. But when he realised his mistakes, he put on the brakes, stopped the war and retreated to Atlantis with Desharow to spend the rest of their days.
NOVEL SPOILERS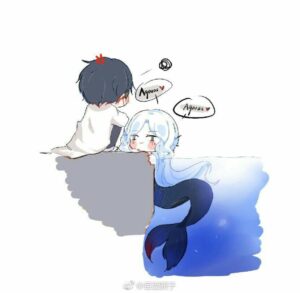 Desharow (MC) is a biology student at the Russian St Petersburg Maritme Academy who went for a long distance voyage with his mentor, Rhine. He had a lifelong wish to explore the mysterious real-life mermaid which even the greatest biologist wasn't able to do.
Nearing Iceland, they caught a black-tailed Merman. Black Tail symbolises royalty and in fact this is the King of the Merfolk they caught, but they didn't know yet. 😆
Intrigued by the real-life Merman, Agares (ML), Desharow visited him at his enclosure and treated his wounds. Subsequently, he was raped several times by Agares when the latter was having his estrus. Desharow felt humiliated and wanted to leave initially, but he was also torn with researching Merfolks. He attempted to leave the research facility but was blackmailed by Sakarol (the Germans, Nazi) to stay otherwise the rape videos would be uploaded to YouTube. He attempted to commit suicide but didn't have the guts.
Eventually, due to his weak body (after intense sex/rape) he fainted and was hauled to sea once again by the German team to search for the merfolk island, Lemegeton.
Agares nursed Desharow back to health by licking his wound but the ship was attacked by pirates (the US Army / US Naval Force). Desharow was severely wounded again and they both were held captive by the "pirates". In the bottom hull of the "pirate" ship, Agares once again nursed Desharow back and saved his life. Spending time together in captivity and during their journey to Lemegeton, Desharow fell in love with Agares but he struggled a long while to recognise and succumb to his feelings. As I analyse how Desharow fell in love with Agares, I would say Desharow felt physical attraction and enjoyed sex with Agares first, and longed for it, then he missed the merman when he's not with him. After that, he got concerned with Agares' safety and well-being, started communicating and understanding him before he finally realised he actually loved the merman.
The relationship between Desharow and Agares was constantly hijacked by the evil plots of the German Nazis, like Sakarol and Rhine; the Japanese researcher, Professor Shinichi and also Desharow's grandfather. Rhine betrayed Desharow and even wiped off his identity as a Russian and a student at his Maritime Academy.
It was quite unexpected that Desharow was in fact the son of his merman "grandfather" and a human female. Desharow's "grandfather" was a silver-tailed merman which can contend with Agares to be the King of Merfolks too. When Desharow was born, he was so weak that his "grandfather" had no choice but sought Agare's help to injected Agare's genes into Desharow. Thus, Desharow too, can be considered as Agares' descendant and likely, future spouse. The Merfolks are incestuous and gay creatures.
It was probably due to "grandfather's" ambition for the throne and contention for Desharow as future spouse that Agares killed "grandfather" in a shipwreck when Desharow was 6 years old.
As the storyline of this novel progressed, Agares' body was infected with black-matter like worms. In the brink of death ( I think his body died then although the novel didn't specifically say that), Agares had no choice but to send Desharow to time-travel back a few decades before World War 2 to resurrect himself in his younger self using his life's core. Desharow achieved it by copulating with the younger Agares and it's like that the younger Agares and the "original" Agares memories merged as one. Software is finally 100% updated! 🤣
In this time-travel arc of the novel, Desharow almost completed his transformation to become a Merman but he was killed by Rhine. Anyway, he cannot exist in this timeline, so he had to disappear somehow.
Following Desharow's death, since Agares had been resurrected decades before Desharow's birth, he waited for 5 decades for Desharow to be re-born again. But this time, Agares couldn't wait any longer and sexually violated Desharow when he was just 14 years old (previous arc, Agares first violated Desharow when he was 15 years old! 😂 Paedophile Agares!!!!!) Desharow also regained his previous memories.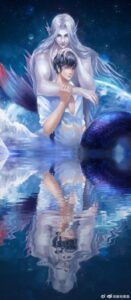 But this time, villain "grandfather" had his evil plans to copulate with Desharow and get the throne from Agares. When Desharow was in his infancy, "grandfather" (who was an ally of evil Professor Shinichi) injected the genes of ancient merman into Desharow instead, (and injected Agares' genes into another human) so Desharow's transformation will be slightly different this time round. He will retain his 2 legs but have wings for flight instead.
During the final battle between Merfolks and German Nazis, in an effort to save Agares, Desharow's wings were severed by helicopter blades and was severely injured. The Merfolks won the battle and Agares brought Desharow to the Merfolks' infirmary where Desharow nursed for a long while before growing back his wings. Agares also injected genes to grow his own wings so that he could also fly with Desharow. 🤣 Oh my! Hard to imagine Agares with tail and wings !!! He must be looking over-decorated by now! Hahaha!
Agares, King of the Merfolks finally realised his plan to expand and build his army by recruiting human spouses for his Merfolks was cruel and flawed. The war against humans would take a long time with many casualties and with no decisive victory on his side. He decided to bring Desharow back to Atlantis and spend the rest of their days in peace.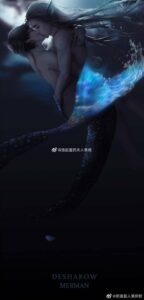 Disclaimer: I do not own all these pictures as they are artworks belongings to fans of "Desharow Merman". Credits reserved for the rightful owners / fans / artists. I've taken these pictures from various sources like the translator's website Chrysanthemum Garden, YouTube, Weibo and so on for illustration purpose.
English Translation: In Progress
Read it here:
https://chrysanthemumgarden.com/novel-tl/dm/
Chinese Raw:
https://www.52shuku.me/jiakong/708.html
http://www.quanben.io/amp/n/desaluorenyu/list.html
Books are available for purchase.