Sa Ye 撒 野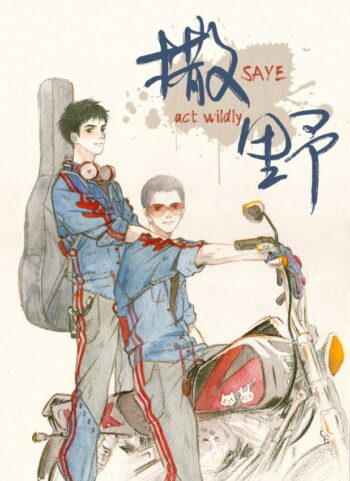 Other Title: Run Freely / Set It All Free
Drama: Chasing The Light 左肩有你
Author: Wu Zhe 巫哲
145 Chapters + 5 Extras
Ratings: 5/5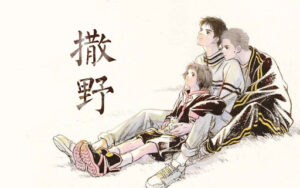 "I like you very much," Gu Fei said, "I will always like you until you no longer need me to like you."
Jiang Cheng looked at him with his mouth half open, and felt buzzing in his mind without saying a word.
I like you very much. Gu Fei's words made him feel dizzy.
"What are you going to say?" Gu Fei rubbed his back.
"…Forgot." Jiang Cheng said.
Gu Fei hooked the corner of his mouth and said nothing.
"Oh," Jiang Cheng rubbed his nose, "I think of it, just…I really like you, I have never liked someone like this."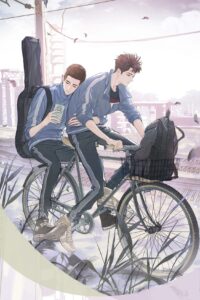 This is an excerpt from Chapter 55. And then a fellow reader who read this novel thrice commented, "Gu Fei Fei, I am angry when I hear your words! You didn't implement it in place! You made Cheng ge cry!!!" Lol!!!!! 😂
"Sa Ye" (Run Freely) is a printed BL novel that is currently very popular in China and has a very high rating and many positive reviews. I give this novel a 5 star rating and wouldn't mind reading it again.
This novel is about the coming of age of two 17 year old high school students – Jiang Cheng and Gu Fei. Jiang Cheng was returned by his adoptive parents to his birth father who was a drunkard and a gambler. Living in this new, decrepit environment in a small industrial town, Jiang Cheng met Gu Fei who shouldered too much responsibilities than he should. They supported and found courage in each other through many tribulations, from friendship to love. But Jiang Cheng's future didn't belong in this small industrial town. He was the top student in school and had to leave this town eventually. Ge Fei was stuck – he had to spend his entire life here to look after his autistic sister, Gu Miao. This is just so heart-breaking!!!
The characters tugged my heart strings, the story is so heartwarming and I felt so distressed for the couple and cried when Gu Fei gave up on himself. But I assure you, the couple is really sweet and endearing and it's a Happy Ending, otherwise I wouldn't recommend this novel! 😊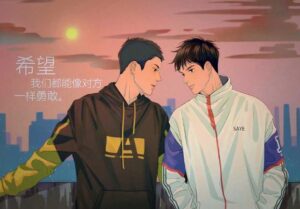 Initially when I started reading this novel, it felt depressing to me, but the humour amongst the characters kept me hanging there and eventually I binged read it all the way including digging into the Chinese raws since it's not fully translated yet. Suddenly, the mundane greyish industrial town that I had imagined in my mind turned into a nostalgic, charming scenery. It's beautiful wherever your loved one is. 💕
All these while, when the author wrote about the cold and the snow-covered streets, I can only imagine Harbin, China. I was pleasantly surprised that the the upcoming drama, "Chasing The Light" was filmed in Harbin! Lol !!!! I just want to return to Harbin again and spend a month playing with snow there! Not to mention the food the characters loved to eat – pan-grilled BBQ meat, fried rice cakes, pancakes, hot sweet potatoes and breakfast items just make me drool! And taking the trains between Harbin and Beijing evoked so many happy memories for me. After reading this novel, I'm inspired to plan a holiday to stay in the Mongolian yurt and go horse riding and see sunrise!
Check out similar novels:
Are You Addicted (Drama is available)
Seizing Dreams (Upcoming Drama by iQiyi)
NOVEL SPOILERS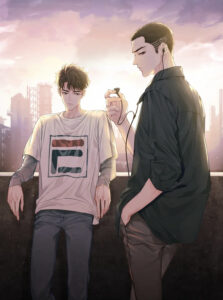 For the first 17 years of his life, Jiang Cheng lived in a big city with his adoptive parents who controlled and were restrictive of what he did and what he ate. They wanted him to do well in his studies and be multi-talented. As a result, Jiang Cheng grew up to be a hot-tempered youth and easily triggered – full of thorns. Finally, his adoptive parents couldn't take his explosive character and returned him to his hometown, his birth place and his birth father, Li Bao Guo.
When Jiang Cheng first arrived at the train station of the small industrial town, he chanced upon a little girl with a skateboard who was being bullied by other kids. He stopped the fight and called the little girl's brother to take her home. This was the first time he met Gu Fei.
Subsequently, Jiang Cheng knew that he was very much alone to fend for himself when he entered his new living quarters – Li Bao Guo's decrepit apartment.
Gu Fei's family supermarket was just across the street and he met Gu Fei a few times again before school started. Jiang Cheng's new school was a far cry from the school that he came from.  In his previous school, Jiang Cheng was amongst the top 5 students. The students in this school were less competitive in their studies, so his new form teacher, Xu Zong had high hopes on him.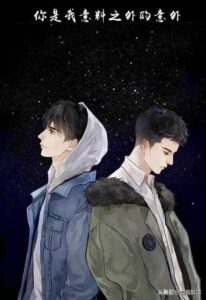 Coincidentally, Jiang Cheng and Gu Fei were in the same class and their form teacher let Jiang Cheng sit with Gu Fei in class, hoping that Jiang Cheng could help Gu Fei in his studies. Their friendship started when Gu Fei offered Jiang Cheng a few milk candies. Their friendship deepened when they both participated in a basketball competition with the other classes in school. Both Jiang Cheng and Gu Fei were like the basketball stars of their high school. Unfortunately, Jiang Cheng somehow offended the nephew, Jiang Bin, of a secret society's boss, Hou Zi during the basketball match. Gu Fei wanted to shield Jiang Cheng from being entangled with the gangsters since he felt Jiang Cheng had a bright future and as the top student, he shouldn't get involved with gangsters. Without letting Jiang Cheng know, Gu Fei and his gang of friends had a basketball match with Jiang Bin which was more of a fight than a ball game. Gu Fei suffered some injuries but Hou Zi, challenged Gu Fei to hurdling on top of buildings to settle their score.
Jiang Cheng found out about Gu Fei's challenge with Hou Zi and decided to provide support secretly by using his sling shot and walnuts to clear obstacles for Gu Fei. But an accident was inevitable no matter how much Jiang Cheng tried and Gu Fei "broke his leg" and thus ended the challenge.
Jiang Cheng was devastated while at his hiding spot, but he eventually made his way to find Gu Fei and found out that Gu Fei didn't break his leg since he had already protected his leg before the challenge, but he had to keep up with the facade.
Prior to this challenge between Gu Fei and Hou Zi, Gu Fei had introduced Jiang Cheng modelling jobs to earn some money. Gu Fei worked as a part time photographer to earn extra income. Sparks flew between the two and their relationship was already more than just friends and desk mates in class. Secretly, they had already fallen for each other and had gotten intimate. They both appreciated the goodness and talents in each other and supported each other during tribulations – Jiang Cheng's fight with his father, his father's death, Li Hui's threats, Gu Miao's autism and so on.
Thus, after Gu Fei's hurdling challenge with Hou Zi, Jiang Cheng popped the question to Gu Fei, "Have you ever thought of having a boyfriend?" He told Gu Fei to think about it and let him know his answer the next morning.
Gu Fei didn't sleep all night and knitted a sunny doll for Jiang Cheng. The next morning, Gu Fei texted Jiang Cheng at 6.45 am and the two met and had their first date to watch a horror movie but ended up masturbating each other in the cinema instead. Both Jiang Cheng and Gu Fei had a very sweet, romantic and loving relationship. They both topped and bottomed for each other.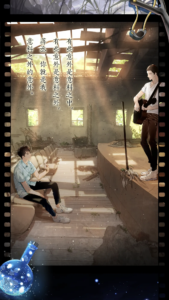 As the final exams drew nearer, the couple realised that their separation was inevitable. Nevertheless, Gu Fei continued juggling with his part time job, taking care of his autistic sister, Gu Miao, the family mini-supermarket's business, his studies and taking care of his boyfriend's diet and well-being. Before Jiang Cheng came into his life, Gu Fei was already shouldering more responsibilities than he should, taking on the role of a bread winner of his family, the prime caregiver of his autistic sister, Gu Miao and watching over his emotionally insecure mother who wanted to relive her teenage years and find new love, but was constantly cheated of her money and emotions.
Jiang Cheng's presence coloured his world and made him see what he could also have achieved had he not been burdened by his family's situation. So what if he studied hard, get good grades and go to a better university ? His future was here, in this small industrial town, looking after his autistic sister and trying to earn enough money to make ends meet, fund Gu Miao's treatment and fund his studies.
After the final exams, Gu Fei got sick having toiled hard the past few months. Jiang Cheng finally realised all the burden Gu Fei had shouldered all these while silently when he focused on his studies.  He cried, said sorry to Gu Fei and looked after him.
Jiang Cheng managed to get into the top university of his choice in another city to study law and the couple started their long distance relationship. Jiang Cheng was determined to pull Gu Fei out of his predicament, and the only way was to seek treatment for Gu Miao. If Gu Miao's condition improved for the better, then Gu Fei would be free to pursue the life that he / they wanted. So Jiang Cheng took on tutoring jobs and read up on Gu Miao's condition. He lost a lot of weight busying during this period of time.
Gu Fei felt lonely and depressed after Jiang Cheng left. He felt even more distressed when he discovered that Jiang Cheng lost a lot of weight, took on tutoring jobs and reading up on Gu Miao's condition instead of studying and living a happy life. He didn't want to pass on his burden to Jiang Cheng, he just wanted Jiang Cheng to enjoy their love relationship while he bear all these burden himself silently. He felt that he couldn't measure up to Jiang Cheng and make him proud, Jiang Cheng would meet many more capable people in his new environment, maybe get a new boyfriend or even get married one day and live happily without him. Jiang Cheng didn't belong to this small industrial town, and he himself couldn't leave this place either. He had to look after Gu Miao and he's stuck here. Finally Gu Fei snapped after Gu Miao accidentally damaged his precious and expensive camera which he needed for his photography job. He screamed desperately and distressingly. He's too tired. Jiang Cheng couldn't contact Gu Fei for 2 days and Gu Fei finally broke up with Jiang Cheng.
"I'm tired, Cheng ge," Gu Fei paused at every word, "Don't pull me along anymore, I don't want to be dragged by anyone anymore, forget it."
~ Chapter 122.
Jiang Cheng was heart broken, cried and lost his voice for many days. But he told himself he needed to press on and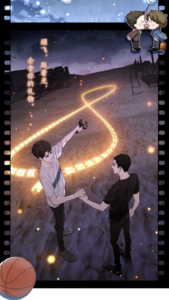 mustn't give up on his original goals. Despite breaking up with Gu Fei, he managed to find help for Gu Miao since she was like a sister to him. He brought his friend, Xu Xing Zhi, a senior who specialised on psychology from another university and some other friends to visit his hometown during the New Year holidays and to take a look at Gu Miao. Meeting Gu Fei once again brought many heartaches, but Gu Fei willingly cooperated with Xu Xing Zhi for Gu Miao's treatment. Jiang Cheng refused to be the first to patch up with Gu Fei since he felt that Gu Fei had to untie the knots in his heart first.
Gu Miao's treatment with Xu Xing Zhi gave the couple opportunities to communicate with each other again. Finally, on impulse and having decided what he wanted, Gu Fei took a car ride with Xu Xing Zhi to the city to look up Jiang Cheng. He apologised to Jiang Cheng and told him he missed him and loved him still. The couple finally got back together again!
"Cheng ge, are you there?" ~ Gu Fei, Chapter 133
"I miss you." ~ Gu Fei, Chapter 134
Phew! The story didn't end here. The author dropped the desserts on how Gu Miao's condition improved and subsequently Gu Fei found new meaning in his life and freed himself from his family burden eventually.
"I want, you on my left shoulder, a smile on my right
I want, to run free without a care, in your eyes
I want, one look, to last a lifetime."
~ lyrics composed by Gu Fei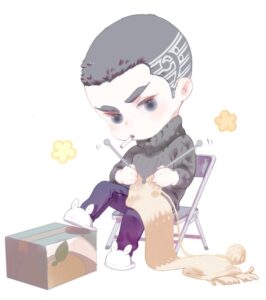 Drama Adapted from Sa Ye – Chasing The Light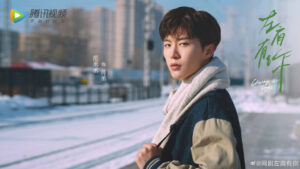 Man Hua from "Kuai Kan Man Hua"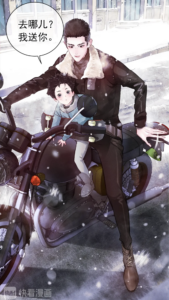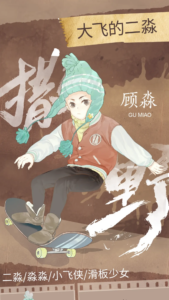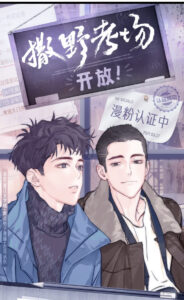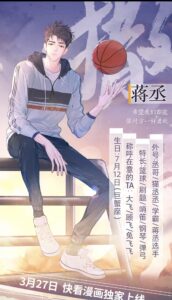 SA YE Printed Book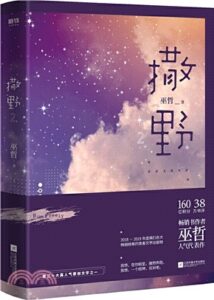 English Translation: In Progress
Read It Here:
Other Links:
Disclaimer: I do not own any of these pictures here. Some are fan-art and some were pictures taken from the free chapters of Kuai Kan Man Hua.