Surviving As A Maid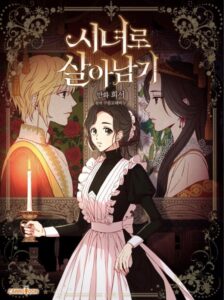 Chapters: 64
Status: Ongoing
Genre: Drama, Fantasy, Historical, Romance, Webtoons
Ratings: 3/5
Synopsis:
When I opened my eyes while cooking ramen, I woke up as the Queen's maid, who was treated coldly by the King in the BL novel, where the King was gay, the concubine gay, the knight gay, the servant gay, and the librarian were gay. Will she be able to survive safely after becoming an ordinary maid, Ash, who has no main character buffs? How will the maid survive!
Review
*MIGHT CONTAIN SPOILERS! READ IT AT YOUR OWN RISK! IF NOT, READ THE REVIEW ON MY IG PAGE.*
The plot line was quite interesting and unique but I felt that all the other male leads falling in love with Yugrel is very coincidental. Firstly, it is a gay novel which makes sense because of how everyone is falling into forbidden love with Yugrel. Also, Yugrel has a rather twisted personality which is rather irritating and all he says so far is how ugly Ash is and how pretty and beautiful he is (which is not true by the way lol). Secondly, the war hero, Klein, is also irritating because he just keeps pursuing Ash but he CLEARLY doesn't love her. He also keeps hinting to her about his lady which he could have been more direct about. Lastly, some plots are just out of the blue and sometimes it could get pretty boring because of theories and inner thoughts (though they are mostly true lol). In the latest chapter, there was a meteor shower and it was from the person whom Klein (who left in the middle of a battle) failed to capture. So why the heck did he return??? Anyways, quite a good manhwa but it is not my cup of tea.
Characters
*Lazy*
Other Links
Novel
Spoiler
Social Media
~ THANK YOU ~