1 plus 1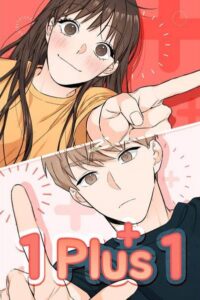 Chapters: 52 
Status: Completed
Genre: Romance, Slice of Life
Ratings: 4/5
Synopsis:
This romance starts with some bumps in the night, that turn into some truly irritating bumps in the day, that then turn into Sung-eun literally bumping into the reason for all the noise: her handsome and charming neighbor, Eun-sung. She quickly finds out that the private student representative has a somewhat questionable reputation, but that doesn't mean she shouldn't do her duty as the kind neighbor. I mean, they are literal neighbors, after all. She hides her true feelings to him, and the two grow so close that it isn't long before Sung-eun has to wonder if maybe Eun-sung…is also hiding something from her?
Review
*MIGHT CONTAIN SPOILERS! READ IT AT YOUR OWN RISK! IF NOT, READ THE REVIEW ON MY IG PAGE.*
It was short and sweet which was good but I felt that it ended quite fast but appropriate at the same time. This is a rather cliche story of a popular guy and a loner girl and how they ended up together minus the bullying though it was on a small scale. Nothing much to say or spoil because it is cliche. 
Characters
*Lazy*
Other Links
Novel
Spoiler
Social Media
~ THANK YOU ~