The Princess in the Dumpster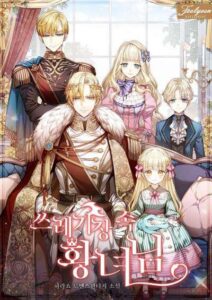 Chapters: 54
Status: Ongoing
Genre: Action, Adventure, Comedy, Drama, Fantasy, Historical, Manga, Manhua, Manhwa, Romance, Webtoons
Ratings: 4/5
Synopsis:
Deep sunken cheeks, dirty skin which lost its original color, twig-like wrists, filthy fingernails and a much smaller body for her age. And with neglected hair hanging over half of her face, this small child is actually the forgotten Royal Princess of the Empire. Unable to stifle her hunger any longer, she crawls out of her hiding within a tiny, old, worn-down castle in search of food…
"I'm hungry," the small girl who's wearing nothing but shabby clothes murmured without even realizing, "Can I eat this…?"
Her small fern-like hand tore a piece of vegetation off of the ground, but she eventually put it down while shaking her head from side to side. The little girl hadn't had a proper meal for three days…
"Estrella…" the child recited the name, her words one with the wind. It was a precious name that she had earned only after a long time.
"I'm sorry I'm late."
"…It's alright," the little one who replied then slumped onto Elias' chest.
Review
*MIGHT CONTAIN SPOILERS! READ IT AT YOUR OWN RISK! IF NOT, READ THE REVIEW ON MY IG PAGE.*
So for this Manhwa, I really like the art, the storyline and how realistic they make the girl look in the beginning because let's be honest…girls like this in other manhwa look unkempt like they should but their nails are surprisingly short. Anyways this manhwa was pretty good so why NOT a 5 was because I did not exactly like the amount of theory in here. It was a wee bit too much for me to handle so it made some parts of the manhwa boring. But gotta be honest that I love where the story is going now because it is starting to get interesting. I honestly don't know how this will end because I rarely read this kind of manhwa but it BETTER END GOOD. Anyways highly recommended though it isn't a 5!
Characters
*Lazy*
Other Links
Novel
Spoiler
Social Media
~ THANK YOU ~
Follow @watashiwakurousagi for more!