Did you reject Mr Lu today?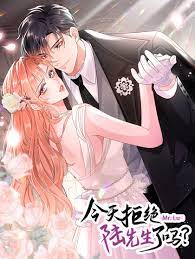 Chapters: 48
Status: Ongoing
Genre: Love & Romance, Manhua, Revenge, Slice of Life, Webtoon
Ratings: 3/5
Synopsis:
A fallen young miss, Gu Yi Xue fell into the trap laid for her by Mr. Perfect and wealthy businessman, Lu Li Yang and she had to be the little wife of the overbearing president. Unfortunately, she was not a weak and pitiful woman. Trying to tame her? Heh! How about the other way around, let her tame the beast, Lu Li Yang!
Review
*MIGHT CONTAIN SPOILERS! READ IT AT YOUR OWN RISK! IF NOT, READ THE REVIEW ON MY IG PAGE.*
If yall like "The Wife Contract and My Daughter's Nanny" then you might like this because sexual things are everywhere and the origin of the manhwa/manhua is probably the same. Honestly, I felt that both of them were about the same but maybe the art for this one is better than the other. Plot is not the same and this one might be a little bit more interesting? Read this if you have nothing else to read I guess. It is not that bad but it is quite typical and cliche.
Ps. Sorry about the picture. Not the best quality but the best I can find.
Characters
*Lazy*
Other Links
Novel
Spoiler
Social Media
You might also like:
The Wife Contract and My Daughter's Nanny
~ THANK YOU ~
Follow @watashiwakurousagi for more!