I Became the Wife of the Male Lead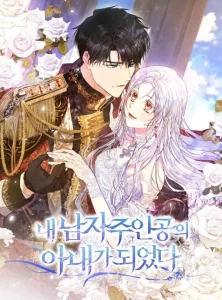 Chapters: 40
Status: Ongoing
Genre: Adaptation, Comedy, Drama, Fantasy, Isekai, Manhwa, Romance, Shoujo, Webtoons
Ratings: 5/5
Synopsis:
I possessed the body of "Fiona," the final villainess whose soul was sentenced to eternal suffering after her gruesome demise at the hands of the world's hero. She was tortured by her own family just because she was an illegitimate child. And so… arriving six years before the start of the novel, I was sent to war at the age of thirteen! Fortunately, as the story's greatest villainess, Fiona was a genius mage. I had to survive the monster invasion. But now, I couldn't be in the middle of a battlefield. Just before I ran out of breath, I encountered the teenaged male lead. …Why is he here? Well, if the male lead dies here, then the world will be destroyed. So, let's save him first!
Review
*MIGHT CONTAIN SPOILERS! READ IT AT YOUR OWN RISK! IF NOT, READ THE REVIEW ON MY IG PAGE.*
Typical but I really love it! Before I read this, I thought the white haired guy was her dad but I'm kind of surprised (but not really surprised) that he is not. I have nothing much to say about this because it is kind of typical like those authors who reincarnate into their own novels and how they try to change the future etc. I just hope that the FL will get her revenge on the family (like how she kind of is now but if she did it like the FL in "The Villainess Reverses the Hourglass" it might have been better lol). And I really hope that she will become the Duke's adopted daughter but not sure how she will marry the ML in the end if she became the heir of the duke lol. Anyways it is a good read though not the best but highly recommended!
Characters
*Lazy*
Other Links
Novel
Spoiler
Social Media
You might also like:
The Villainess Reverses the Hourglass
~ THANK YOU ~
Follow @watashiwakurousagi for more!