The Princess Pretends to be Crazy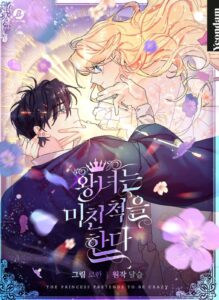 Chapters: 58
Status: Ongoing
Genre: Comedy, Drama, Fantasy, Historical, Magic, Manhwa, Romance, Shoujo, Survival, Time Travel, Webtoons
Ratings: 5/5
Synopsis:
"On the Moonlight Garden-!" "White evening primroses are in full bloom -!" It was a strange succession ceremony in which the strongest member of the royal family succeeds the throne. After being poisoned, she returned five years into the past, and played the part of a crazy b*tch in order to survive. Seriously, was surviving by simply looking like the weakest not enough? The crazy princess, with no power or backing, was about to die, but a suspicious wizard suddenly appeared before her. "What should I do to get your kiss?" "A deal. If you help me, I'll kiss you." "Good. I have no intention of letting you die in the hands of anyone besides me." I feel like I entered the tiger's den while trying to escape the wolves… Is it really okay if I make this deal? A fiery battle and romance between a woman walking towards life with all her might, and a man who lives for death.
Review
*MIGHT CONTAIN SPOILERS! READ IT AT YOUR OWN RISK! IF NOT, READ THE REVIEW ON MY IG PAGE.*
It is pretty interesting and nothing like I expected it to be. I love the romance between the FL and ML until the ML kind of went berserk and started hurting her. I cried at the part when the brother woke up to find out that the FL actually left the throne to him. But I'm very glad that the first prince and the king got what they deserved in the end. I think this manhwa taught me that everyone will have to eventually die one day and things will have to be passed on to the next person in life so we should let go when the time comes.
This manhwa was unique and I'm quite excited to find out what will happen to the princess and the mage because is she going to die? Is she going to live like a normal human instead of being the saintess? I've read a bit of spoilers and think that this has to have a happy ending for it to be a good story. 
Anyways, a highly recommended read!
Characters
*Lazy*
Other Links
Novel
Social Media
You might also like:
None
~ THANK YOU ~
Follow @watashiwakurousagi for more!