The Tyrant's Only Perfumer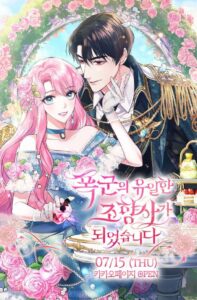 Chapters: 50
Status: Ongoing
Genre: Drama, Fantasy, Historical, Isekai, Manhwa, Reincarnation, Romance, Shoujo, Villainess, Webtoons
Ratings: 4/5
Synopsis:
A crazy dog that goes on a rampage and kills if he doesn't smell a certain scent regularly. I possessed Ariel, the perfumer of Duke Cedric. The problem was that Ariel, the villainess, loved this crazy dog so much, she committed all kinds of obsessions and misdeeds. "Duke, let's break up." "What?" "Anyway, it was a contractual relationship that started by my forcing, right?" So I broke up with the Male lead to survive somehow. "Wait, wait…" "Don't worry about the perfume. And I'll let you go without you becoming a crazy dog." "Crazy… Dog?" Oh, my mistake. The nickname I used to call the Male Lead just popped out. I thought I was doing well, but… "Now, you're coming here?" I looked in front of my shop with dim eyes. To be exact, on the stairs leading to the store. Male lead, why are you sitting pathetically on the stairs of someone else's store?
Review
*MIGHT CONTAIN SPOILERS! READ IT AT YOUR OWN RISK! IF NOT, READ THE REVIEW ON MY IG PAGE.*
Pretty typical again but I like the element of smells this time. Truthfully did not managed to read everything before posting this but I have already read more than half of the available chapters so I hope it is alright. 
I found it quite typical again and I can predict where this is going though the Duke's curse might be the only factor which is different? But will definitely recommend y'all to read it!
Characters
*Lazy*
Other Links
Novel
Spoiler
Social Media
You might also like:
None
~ THANK YOU ~
Follow @watashiwakurousagi for more!