Beware of the Villainess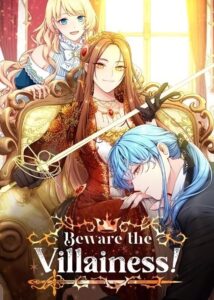 Chapters: 110
Status: Completed (ongoing side chapters)
Genre: Comedy, Drama, Fantasy, Manga, Manhua, Manhwa, Romance, Webtoons
Ratings: 4/5
Synopsis:
I became the villainess of a novel! Do I hate it? No! I find it rather nice. A duke's daughter = a jobless rich person. How I can miss out on a chance like this?! This is the best chance to just enjoy life. I should throw out the main plot and just live life how I want to! Not long after waking up as the villainess, I witnessed my fiancé, the novel's male lead, the crowned prince, cheating. I saw him embrace a lady other than I and he was smiling so bright. I was brought to tears… Just kidding, I didn't cry! My tears are worth too much to be wasted on that garbage. Instead of tears, I yelled out, "Your highness, are you trash?" The main character with a personality of a refreshing soda! The girl-crush protagonist that will completely throw out the main story! Why? Because it's a waste for a girl to be surrounded by cheap cars. (cars = men)
Review
*MIGHT CONTAIN SPOILERS! READ IT AT YOUR OWN RISK! IF NOT, READ THE REVIEW ON MY IG PAGE.*
First, I love the plot line. It was amazing especially the part where the FL fought with the god because it was just on a whole other level. Second, I love the unusual way of how they ML and FL showed love and proposed to each other. Usually, it is the ML who is dominant and will step up but its nice and new to see the FL do it. Lastly, I just felt that there was something missing in this story and I don't know what. It is a really good manhwa and will definitely recommend it to others but it will not be one of my top few manhwas to recommend because of the missing thing I felt. I am not really a fan of the side stories (and I dont usually read them) especially the one about Nine because it was just so sad. My favourite one was about the FL and ML I guess.
Characters
*Lazy*
Other Links
Novel
Spoiler
Social Media
You might also like:
None
~ THANK YOU ~
Follow @watashiwakurousagi for more!