Two Heirs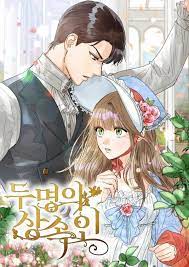 Chapters: 11
Status: Ongoing 
Genre: Adaptation, Fantasy, Historical, Romance
Ratings: 4/5
Synopsis:
Riella, who runs a small flower shop, suddenly inherits all of the fortunes of Duke Hoson, the mighty jeweler because of her special ability. However, there was another original heir who decided to receive a tremendous legacy. The king's younger brother and jeweler, Grand Duke Haun, appears in front of Riella, who is confused by an unexpected inheritance. "Everything with Hoson's name was going to be mine. So l'm getting it back. Everything, including you."
Review
*MIGHT CONTAIN SPOILERS! READ IT AT YOUR OWN RISK! IF NOT, READ THE REVIEW ON MY IG PAGE.*
Too few chapters for me to read to be honest but I can kind of see the potential in this manhwa. Will recommend y'all to wait for more chapters to update before reading this.
Characters
*Lazy*
Other Links
Novel
Spoiler
Social Media
You might also like:
None
~ THANK YOU ~
Follow @watashiwakurousagi for more!