One Pair Lady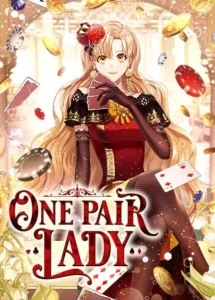 Chapters: 52
Status: Ongoing 
Genre: Drama, Fantasy, Historical, Romance, Time Travel
Ratings: 5/5
Synopsis:
When I woke up from my sleep, my house had disappeared?! Adele, a gambling genius, suddenly transmigrates ten years into the future. Participating in a gambling event at the request of the tower master, Rudy leads her to meet the Duke of Elfinheim, the organizer of the event. A name that I seem to have heard somewhere, with a familiar pronunciation and appearance. What is this strange feeling? "Where's the lady the Duke was looking for? "Aha, that rumored lady? "Yes. I heard rumors that the gambling ship itself is currently afloat only for that woman." Besides, the rumored lady's description is similar to mine?!
Review
*MIGHT CONTAIN SPOILERS! READ IT AT YOUR OWN RISK! IF NOT, READ THE REVIEW ON MY IG PAGE.*
Love this so much! This manhwa is so crazy cool and I love the blossoming romance between the main couple. One thing I might not like about this manhwa will be how much you have to read to know about the games to know what is happening in the manhwa. But it is also alright if you don't understand because I am proof of it. I will highly recommend y'all to read this manhwa because it is just so interesting and the FL is very witty!
Characters
*Lazy*
Other Links
Novel
Spoiler
Social Media
You might also like:
None
~ THANK YOU ~
Follow @watashiwakurousagi for more!