Truthfully, They Only Remembered Her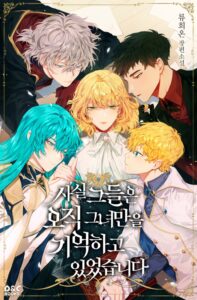 Chapters: 71
Status: Ongoing 
Genre: Action, Adventure, Drama, Fantasy, Historical, Romance
Ratings: 4/5
Synopsis:
"I'm leaving." "Really? I'm sure the people who fought together with you in the war will miss you." "Nobody will remember me. " At the end of the war, a commoner knight, Clarence Holton, left everything behind and ran away, including the promised honor and happiness she could have received after winning the war. But– "Where the hell did Clarence go?" Contrary to the expectations that no one would remember her, the imperial prince, the taciturn knight, and the genius wizard, all rose to the temple at the news that she had left. And the chase for her disappearance began.
Review
*MIGHT CONTAIN SPOILERS! READ IT AT YOUR OWN RISK! IF NOT, READ THE REVIEW ON MY IG PAGE.*
This manhwa is a reverse harem so it can get a bit boring because there is not build up to the FL's romance, like I low-key thought that she might get together with the brother instead of the other guys who like her too. In the comments, I saw that many dropped it because of this while other continued on because the FL (again) was really cool! I felt that the manhwa at the start was boring but at where the manhwa is now is pretty interesting so maybe you can try reading it!
Characters
*Lazy*
Other Links
Novel
Spoiler
Social Media
You might also like:
None
~ THANK YOU ~
Follow @watashiwakurousagi for more!