Return of the Female Knight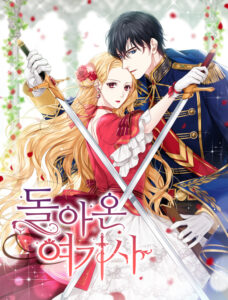 Chapters: 52
Status: Ongoing 
Genre: Action, Drama, Fantasy, Historical, Manhwa, Romance
Ratings: 3/5
Synopsis:
Elena, who spent her entire life as a cold-blooded female knight to avenge her family, ended up dying without claiming her revenge. When she opened her eyes she found that she went back into the past. By day she was a lady in a dress, and at night she carried a sword to change history and prevent her family's destruction.
"I want to marry you, Your Highness," she said to the crown prince. She would do this to save her family.
Review
*MIGHT CONTAIN SPOILERS! READ IT AT YOUR OWN RISK! IF NOT, READ THE REVIEW ON MY IG PAGE.*
It was good at the start but the FL is annoying for trying to push the guy away (but I do understand why and it is cliche and normal) and how she goes about things. Story plot was good but will not say it is the best because I can not really tell who are the people the FL/ML can trust. The sister and brother were annoying too because they might turn their backs on her because of the empress and what not. I dropped this at chapter 47 in case y'all want to know. Honestly not very interesting and cliche. 
Characters
*Lazy*
Other Links
Novel
Spoiler
Social Media
You might also like:
None
~ THANK YOU ~
Follow @watashiwakurousagi for more!