Two Sides of the Princess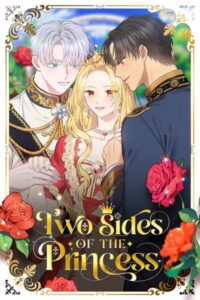 Chapters: 66
Status: Ongoing 
Genre: Drama, Fantasy, Full color, Manhwa, Romance, Shoujo
Ratings: 3/5
Synopsis:
"Your Majesty, please call off my engagement with Her Highness, Princess Apolonia. I fell in love with Adriene Rhys." Six engagements, six breakups. The princess' fiancés always have an affair with her maids! "I don't want to marry a prince, I want to live with you, Father." "How useless. Leave!" Apolonia, a princess who is known to be weak and stupid. However, she has a hidden side to her… "Because the throne is not easily obtained, my father spent 10 years trying to kill my mother and the Emperor." Apolonia grinned, while her red eyes shone brightly. Usurping the throne. Her goal was clear and she never shook. 'I want to live with my father… To be precise, I want to live where my father sits. Just wait, Father. Your daughter is on her way… to get back everything that was stolen from her.'
Review
*MIGHT CONTAIN SPOILERS! READ IT AT YOUR OWN RISK! IF NOT, READ THE REVIEW ON MY IG PAGE.*
Not as exciting as I hope it will be. There was simply a lot of theories, strategy and politics in this manhwa which kind of made it unbearable. Dislike how how complicated the plot have become but I hope everything will be worth it in the end. 
Characters
*Lazy*
Other Links
Novel
Spoiler
Social Media
You might also like:
None
~ THANK YOU ~
Follow @watashiwakurousagi for more!