Please Take Care of Me in this Life as well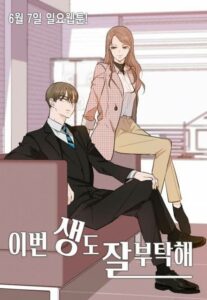 Chapters: 101
Status: Ongoing 
Genre: Comedy, Drama, Fantasy, Manhwa, Romance, Webtoons
Ratings: 5/5
Synopsis:
The biggest romance rival of my 19th life is my 18th? The romance story of a woman who remembers her past life.…!
Review
*MIGHT CONTAIN SPOILERS! READ IT AT YOUR OWN RISK! IF NOT, READ THE REVIEW ON MY IG PAGE.*
Really impressed by this manhwa! It has the good kind of complicated and it is also quite unique. It might not seem interesting at first but I can assure you that you will be HOOKED by it! So highly recommended and be prepared to get your heart strings TUGGED 😉 By the way…this is BEST COUPLE right here!! Love is damn realistic and also very good! Love this a lot and HIGHLY RECOMMENDED!!
Characters
*Lazy*
Other Links
Novel
Spoiler
Social Media
You might also like:
None
~ THANK YOU ~
Follow @watashiwakurousagi for more!