Welcome, It's the First Time With This Kind of Villainess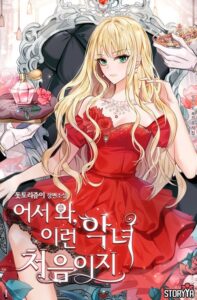 Chapters: 53
Status: Ongoing 
Genre: Drama, Fantasy, Manhwa, Romance, Webtoons
Ratings: 4/5
Synopsis:
How did I accidentally change the empire's entertainment industry? This is the success story of an evil woman's virtuous life!! I spent an entire five years as a trainee, working relentlessly to achieve my goal. But before I knew it, my juniors began debuting before me! I lived days without hope, without being given a single chance, and now this happens…?! One day, I suddenly took possession of a duke's daughter, Ashley. Presumed a wicked women, even though she never intended to be, Ashley was fated to die by fire. I only have one year left to live! But, why are there so many handsome guys here? "Well, I've made up my mind!" Before I meet my end, I'll gather them all and start a boy group…!
Review
*MIGHT CONTAIN SPOILERS! READ IT AT YOUR OWN RISK! IF NOT, READ THE REVIEW ON MY IG PAGE.*
Just realised that manhwa does not really follow the synopsis but it is still quite similar. 
This manhwa was rated quite poorly (3/5) maybe because it is not the same as the usual isekai. This manhwa focuses on idols and there is a little bit of the normal isekai where there is the FL fell into a novel, became the villainess and you know the rest. This one is about theatre and the romance between the ML and FL is incredibly little. I do not think this manhwa is all hopeless but I am quite upset that the romance is not visibly. Like people might know that he is the ML but will be shock with the build up because it was very little. Anyways, these are my own opinions. Read it and let me know what you think!
Characters
*Lazy*
Other Links
Novel
Spoiler
Social Media
You might also like:
None
~ THANK YOU ~
Follow @watashiwakurousagi for more!