Happy Ending for the Time-Limited Villainess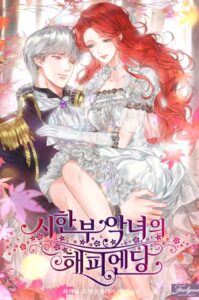 Chapters: 66
Status: Ongoing 
Genre: Drama, Fantasy, Isekai, Magic, Manhwa, Romance, Shoujo, Web Comic, Webtoons
Ratings: 4/5
Synopsis:
Please have a happy marriage with me for just six months." "What good does that have for me? "Of course we'll give you the Reno family's estates and fortune." "…Let's say you give it all to me. You said you'll divorce me in half a year. If that's so, what will you do afterwards?" "…There's something I've been thinking about doing. I won't be able to use the money anyway." Clea always lied. This body will soon die. It'll barely last half a year. After being in a satisfying marriage, Clea Reno wanted to close her eyes for the final time in a quiet place. When I was stabbed to death, I was summoned before the Demon King and was given a six-month time limit as a villainess. "Keuk-" My body uses up one energy when taking a step, three health when talking, 300 of my health after running for ten seconds, and I throw up blood when a third of my energy is spent. "Oh my, she's doing that again for attention." "It's surprising that she carries paint wherever she goes." "Well, His Excellency Detroit did reject her coldly." My reputation was the worst. The Demon Lord said he'll save my body if I get married happily, but the condition is mortifying. I have to get married to the man I've had an unrequited crush on, Duke Detroit. I said I'll do anything in order to get married, but I don't know what a "happy marriage" is… Will I be able to survive?
Review
*MIGHT CONTAIN SPOILERS! READ IT AT YOUR OWN RISK! IF NOT, READ THE REVIEW ON MY IG PAGE.*
Interestingly, it's quite good! It is a bit cliche but I like how simple and complicated it is. Nothing special in this manhwa but I like it and I can't wait for the updates!
Characters
*Lazy*
Other Links
Novel
Spoiler
Social Media
You might also like:
None
~ THANK YOU ~
Follow @watashiwakurousagi for more!