Sanook Kitchen @ Kallang Wave Mall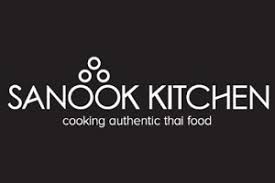 Ratings: 3/5
Locations:
Heartland Mall (Kovan), Eastpoint Mall, Tampines 1, Northpoint City, Suntec City, Parkway Parade, JCube, West Mall, Woods Square, Funan Mall, Kallang Wave Mall, Jurong Point (11am to 10pm)
Bedok Mall, Jurong East Central (10am to 10pm)
Jewel (Sun-Thurs: 11am to 10pm; Fri-Sat: 10am to 10pm)
---
Hi guys! Welcome to my food blog!
Today, we will be introducing to you a Thai food place and where might this be? It will be none other than Sanook Kitchen!
Sanook Kitchen has a lot more outlets than Nakhon Kitchen, so it will definitely be more common! This is my first time trying Sanook and I have a certain level of expectations of Thai food thanks to Nakhon Kitchen. So without further ado, let's go!
First up will be the Red Tom Yum Soup Super Bowl (Seafood) ($29.90).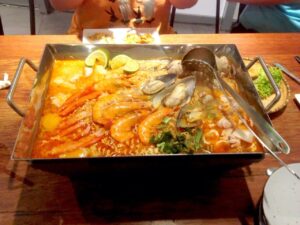 Initially, we were supposed to order the Meat Lover version, however we did not check carefully before ordering and ended up with the seafood one. Unfortunately, most of us could not eat seafood so only one of us needed to "tank" the entire group. And that person was me.
At first, I was really scared to eat all the prawns because the first time I did that (at Fish & Co.), it ended up really bad. But the prawns at Fish & Co. were torched and not moist like this. So as you can see, the amount of seafood in this Super Bowl is a lot and fit for a group of 4. There were prawns, muscles, clams, crab meat (which can simply be bought from the supermarket), fish, sotong, etc. There were also noodles inside as a form of carbohydrate, and the soup (when it is hot) is good, slightly sour and not spicy at all.
Though this dish is good, the downside of it will be the soup because it doesn't taste like tom yum. As you all know tom yum is a sour and spicy taste, but this soup seems to not have any spice in it.
Next, we also ordered Phad Thai ($5.90)!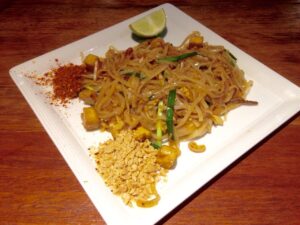 For me, Phad Thai is a must order in any restaurant! Compared to the one at Nakhon Kitchen, this Phad Thai is not as flavourful and moist. So I felt that the taste was not mind-blowing and rather "meh".
The last dish I would like to introduce will be the Stir-fried Spicy Tang Hoon ($5.90).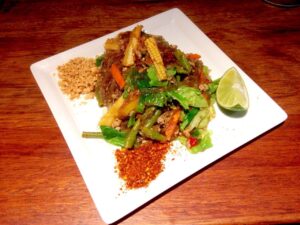 Tang Hoon is one of my favourite noodle. What I liked about this dish was that it was loaded with vegetables. I could not exactly remember the taste of this dish because I mainly ate the Super Bowl, but I believe it was very spicy (as indicated on the menu with 3 chilli symbols). I did not eat a lot but it was definitely spicy for me.
We also ordered drinks! And since we are at a Thai restaurant, we ordered our usual which was Red and Green Thai Milk Tea ($3.00 each).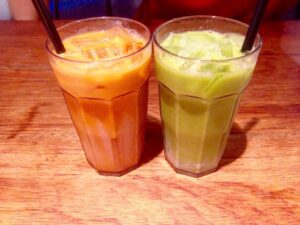 Honestly, Thai Milk tea taste all the same. But if I were to compare, I will say that Nakhon Kitchen's milk tea has a stronger taste than Sanook Kitchen in general.
Finally, we have dessert – Thai Chendol ($3.50)!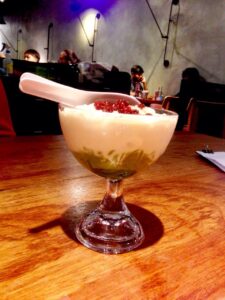 I got one sentence for this – it simply tasted like Chendol. There was nothing really different, significant or mind-blowing about it, so yes, normal Chendol.
In conclusion, I would not say that this place is impressive because the food did not wow me. However, I will recommend you to try (especially when you eat as a group) will be the Super Bowls. I was really excited about the Super Bowls, and though they did not meet my expectations, I think they are still worth it because it is always nice to share with friends and families!
Thank you for reading and don't forget to follow our socials!
---
 We might have tried out more food!  
Click @yz_foodntravelog to find out!