Stir Fried Hairy Gourd 炒毛瓜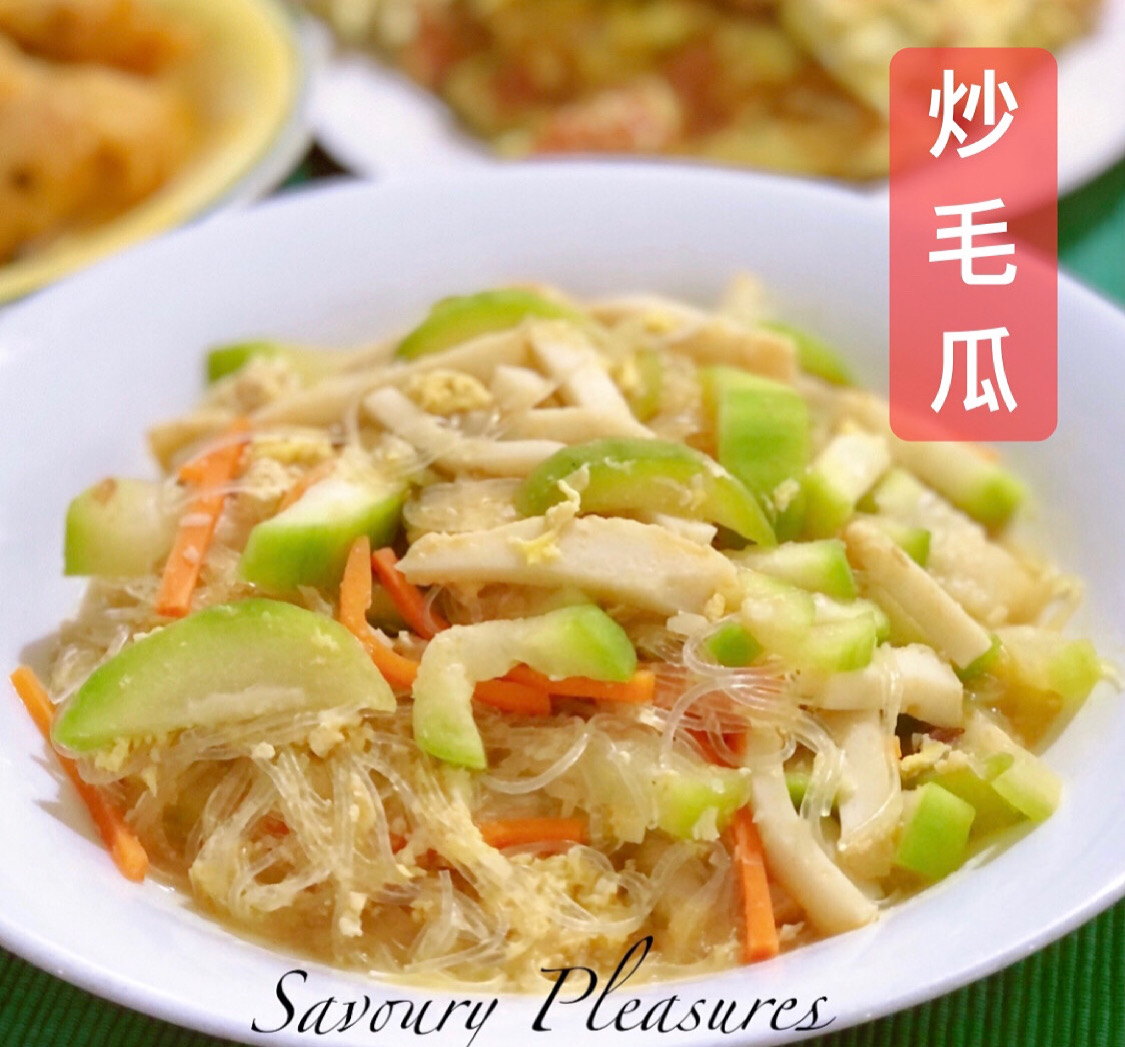 This is one of my favourite vegetable dish which I always buy from the economic rice stalls. The texture of the hairy gourd is so soft and juicy in the mouth and it is not bitter at all. I love to have this with porridge or rice. And even better with tang hoon (aka glass noodles, mung bean noodles).
For health reasons, I'd prefer this vegetable dish to be plain. But there are many other variations which included adding dried shrimps, dark soya sauce and etc.
[ Ingredients ]
1 hair-gourd cut to strips
1 sliced fish cake
4 cloves chopped garlic
1/2 or 1 carrot cut to strips
2 slices of ginger cut to strips
1 handful tang hoon / glass noodles
1 egg beaten
1 tsp salt
1 tsp sugar
1 tsp soya sauce
1 tsp chicken seasoning powder
1.5 cup water
1 tbsp cooking oil
White pepper
[ Optional ingredients ]
1 tbsp dried shrimps soaked
1 tbsp soya bean paste
[ Other variations ]
Add dark soya sauce, sesame oil, dried version
[ Directions ]
Heat up the wok and add 1 tbsp of cooking oil
Stir fry ginger until fragrant
Add carrots and garlic and stir fry until fragrant
Add hairy gourd and stir fry for about 1 to 2 minutes.
Add water, salt, sugar, soya sauce, pepper, chicken powder, fish cake, tang hoon
Stir fry for the ingredients to mix properly
Add beaten egg
Cover the wok and let it simmer for about 7 mins
Add more water and let it simmer a bit longer if you want it more soupy.
Serve with rice or porridge.