Eighteen Chef @ Downtown East E!Avenue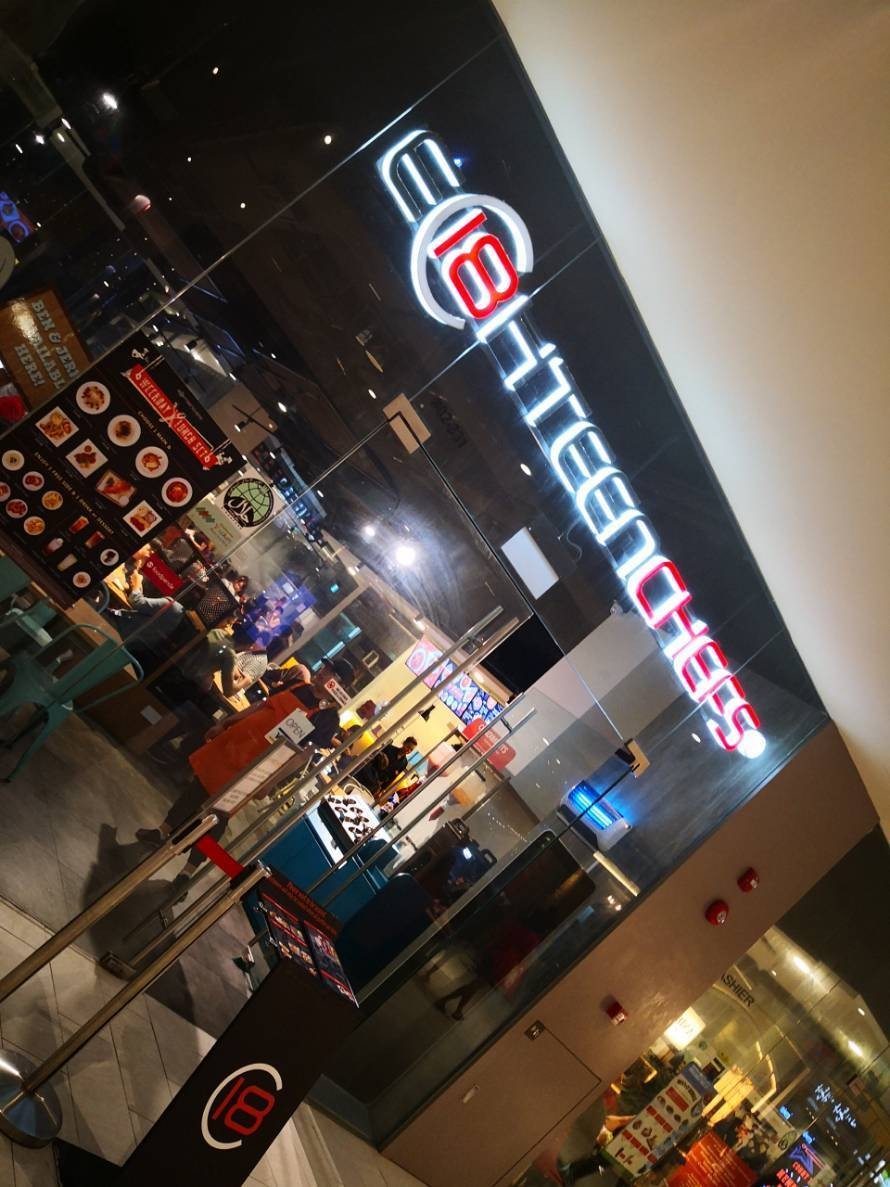 Ratings: 3/5
*Menus at Clementi Mall, Downtown East and Bugis Junction have different menus than the rest.
---
Hey guy! Welcome to my blog!
Eighteen Chef is known for one of its co-founder stories where Mr Benny Se Teo, an ex-convict, together with Mr Roger Wong created Eighteen Chef to spread hope and light to inspire troubled youths and people to find alternative ways to reintegrate into society. Between 2010 to 2016, they have won 7 awards including their latest one in 2016, the Excellent Service Award.
Eighteen Chef has a total of 11 outlets nation wide and the one we regularly patronised was at the Downtown East E!Avenue. Eighteen Chef has a range of western food from appetisers to main courses such as pasta, burgers and rice to their drinks and desserts.
Drinks
Butter B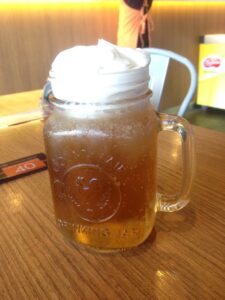 An addictive drink made of soda with whipped cream on top to make it look like a cup of beer. This drink was a Christmas Special drink last year and the best drink for celebrations! I really miss this drink.
Blue Ocean ($4.50)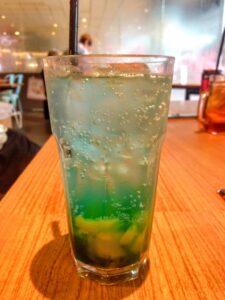 Some people might find this drink sour because they probably drank from the bottom which has a strong lemon taste. However, I felt that it was just nice with a touch of sweetness and sourness together. This drink gives off a refreshing and cool vibe like summer and it makes you feel cooling just from the picture itself. I chose this drink because I love blue soda drinks and I guess this does not disappoint.
Another commonly ordered drink will be the 18C Iced Lemon Tea!
Appetisers
Truffle Mushroom Soup (Soup of the Day)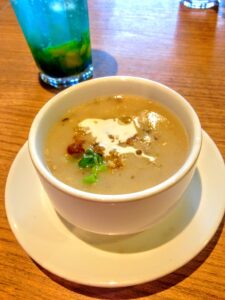 This was another Christmas Special last year! Truffle mushroom soup with croutons are really good. It generally tastes like normal mushroom soup but it would have been better if the soup was hotter to give the warm feeling of celebrations.
Cheese Snack Platter ($15.90)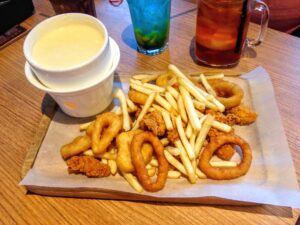 We have tried both the cheesy and salted egg snack platter. But as we are fans of cheese, we mainly order the cheesy snack platter! This snack platter consist of a cheese fondue, calamari rings, onion rings, chicken nuggets, chicken popcorns and fries. It is suitable for a group of 3-4 and the cheese is a lot too! So there is no need to fight. What I love about this dish is the variety and it is a snack platter after all, so I would expect a variety of food.
Main Courses
Fish and Chips ($14.80)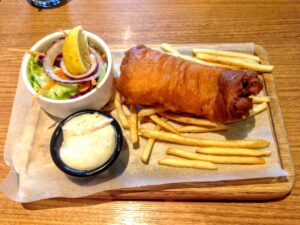 The fish and chips tasted normal. The fish was the usual – Dory and the tartar sauce was nice.
Eighteen Beef Burger ($12.90)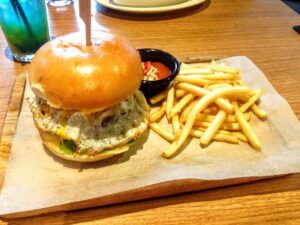 This dish is one of our usuals and it tastes normal. Fun fact: if you would like to order beef at Eighteen Chef, only order the beef burger and not the beef steak because it is just too hard to eat.
Aglio Olio with Black Pepper Grilled Chicken (set with Butter B and Truffle Mushroom Soup: $16.80)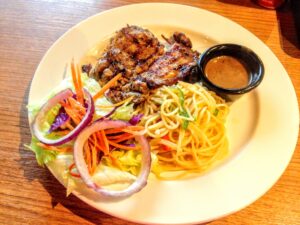 This dish is really good! I love the pasta and the chicken, they go so well together with the black pepper sauce!
Bulgogi Ribeye Pasta ($15.80)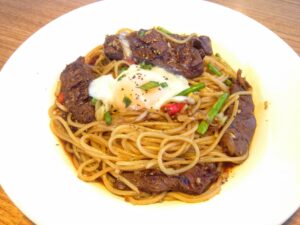 Though it is a recommended dish and it looks really appealing, I will tell you why you should not order it. The pasta was really good and I really love the sauce because it has the juice from the beef and the spiciness (similar to Aglio Olio) is what I like. However, I felt that the texture and taste of the beef ruined the dish. The beef was really hard to chew and such that you might have to swallow down chunks of beef and it is also very hard to cut it with a knight. Amongst all the dishes, I felt that the beef dishes at Eighteen Chef should be avoided, and that includes the Heart Attack Fried Rice beef sets.
Salted Egg Crispy Chicken Burger ($10.90)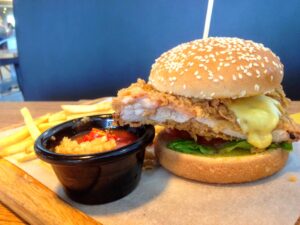 Honestly, it was nothing special. It just tasted like a normal burger with salted egg on the chicken. However, the FR sauce was bomb!
Desserts
Black Beauty ($6.60)
This is really good! Like it is the only dessert I will ever order at Eighteen Chef every time I go back again. It has a nice contrast of hot and cold, where the brownie is warm and heated up nicely while the ice cream is cold. It is pretty similar to eating a Lava Cake with a scoop of Vanilla ice cream.
Another dessert we have tried is the ButterMilk Thick Toast ($9.80). It is filing especially after eating a meal so I would advise you to share it with another 1-2 people. It is also extremely sweet and what I love is the Lotus biscuits because they are my favourite!
My experience at Eighteen Chef was good overall and the food was decent but can be a little bit pricey. Other than the food, what I also felt need improvement was the service there (only for that particular outlet because I have not gone to other outlets). My first few visits to Eighteen Chef was normal, but lately when we visit Eighteen Chef, I felt that perhaps one of their managers was rude and also did not show a good attitude towards my family. Maybe it was a misunderstanding on my part but my opinion still stands.
Thank you for reading and don't forget to follow our socials!
---
 We might have tried more food!  
Click @yz_foodntravelog now to find out more!
Featured Image Credit to Wongnai