Honey (Meguro Amu)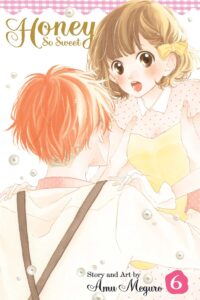 Chapters: 40.5
Status: Completed
Genre: Japanese, Shoujo, Comedy, Romance, School Life, Slice of Life
Ratings: 4/5
Synopsis:
Clumsily, he panicked and hid the flower bouquet behind his back… This is what happens one day when ordinary girl Kogure Nao is summoned by the scary-looking Onigase-kun. However, she is shocked when he says to her: "Please date me before you marry me!" Nao is too shocked and terrified to say no… what will come of their relationship?
Review
*MIGHT CONTAIN SPOILERS! READ IT AT YOUR OWN RISK! IF NOT, READ THE REVIEW ON MY IG PAGE.*
It is quite the typical school love story with love triangles, meeting parents, having parties and all that. Though I felt that the story could have ended earlier, they gave depth to the story line and other characters which was greatly appreciated. As usual, there were some touching moments and also things which we can learn from. Really like this manga but not really the art. 
Characters
*Lazy*
Other Links
Novel
Spoiler
Social Media
~ THANK YOU ~