Emperor and the Female Knight (The King and His Knight)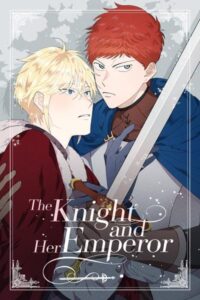 Chapters: 135
Status: Ongoing
Genre: Action, Comedy, Drama, Fantasy, Historical, Josei, Manga, Manhua, Manhwa, Romance, Webtoon
Ratings: 2/5
Synopsis:
Pauliana has been defeated and captured by the army of the enemy nation, Acrea. She has been desperately trying to survive in men's society, but it was all in vain. Acrea's young king, Lucius, sees her struggle and makes an unexpected offer. He dreams to continue the war and be the first emperor to conquer the South continent and it's sea. Pauliana, swears a life-long allegiance to Lucius for acknowledging her. However, in the end, Lucius is just an emperor on the battlefield that had awakened his love for Pauliana!
Review
*MIGHT CONTAIN SPOILERS! READ IT AT YOUR OWN RISK! IF NOT, READ THE REVIEW ON MY IG PAGE.*
Greatly disappointing. On top of the plot being typical, the author seems to have a screw loose by moving the story in the opposite direction of what it was supposed to be. During the war, there was no development of the King's feelings at all. It was only until the last part where "BAAM!" The King suddenly fell in love with the female knight. After that, it was just tons of this guy trying to chase the girl unsuccessfully, and the girl being so dense and oblivious to his actions, and the King continuously thinking about her. Honestly, this is dragging for too long and the story is as good as going nowhere because the King is not doing much to make it obvious to the female knight that he loves her and it just keeps dragging on and on. Like when is the female knight going to learn etiquette, when is she going to realise etc. I got a feeling that this manhwa is going to go well into 200 chapters and that it is already extremely long and draggy in my opinion. So read it only if you have nothing else to read. 
Characters
*Lazy*
Other Links
Novel
Spoiler
Social Media
~ THANK YOU ~