I Don't Love You Anymore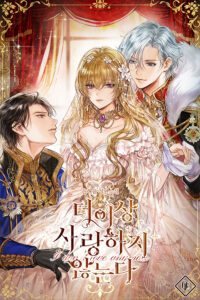 Chapters: 56
Status: Ongoing
Genre: Drama, Fantasy, Manhwa, Romance, Tragedy
Ratings: 4/5
Synopsis:
To Nivea, the world seemed like an eternal winter. Her parents and maids had given her the cold shoulder ever since she was a baby. When she fell down in the snow, no one spared her a glance. It was truly a dreadful winter.
While living day to day like a doll on a display shelf, Nivea was engaged as part of a pre-natal agreement between her father and her fiance's father. Her fiance was a Wistash. Duke Valor Wistash.
As in the prelude to every tragedy, it all began with a damned love.
"Love has its moments. You missed them all, and now I don't love you anymore."
Niveia said to her fiance who had never once looked at her for the past decade, then left the Empire for the neighbouring country where she was welcomed with open arms.
She didn't expect anything there and was simply planning to live quietly but the Emperor's attitude towards her was exceedingly friendly.
"I want you to be happy. You can wish for anything and do as you please. I want to give you a season where you don't have to be constantly wary of other people."
After meeting Arendt, Nivea's winter began to overflow… into spring as the snow began to melt.
Review
*MIGHT CONTAIN SPOILERS! READ IT AT YOUR OWN RISK! IF NOT, READ THE REVIEW ON MY IG PAGE.*
Love this plotline and it coincides with the song I'm planning to make a reel for so it's amazing!!! I love how the king cares so much for the girl and even gives her space while the jerk of her husband could not even take care of her properly and just let things roll. But I will honestly blame their misunderstandings and miscommunications with each other because that was what created what happened during the story. Also, the ex-husband of hers is really childish and foolish to think that she can love no one else if she doesnt love him (does that make sense?) because I'm sure she will fall head over heels with this new guy before she knows it. And that is what usually happens during these kinds of plot lines. Highly recommended to read it.
Characters
*Lazy*
Other Links
Novel
Spoiler
Social Media
~ THANK YOU ~