What it means to be you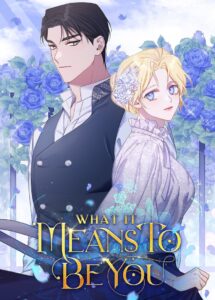 Chapters: 65
Status: Ongoing
Genre: Drama, Fantasy, Historical, Manhwa, Romance, Shoujo
Ratings: 4/5
Synopsis:
In exchange for clearing off the royal family's huge debt, Princess Violet was sent to marry Winter, the duke's illegitimate son.
"I've never seen such a wonderful man before in my life." Although Violet fell in love with her husband at first sight, their arranged marriage was destined to fail from the beginning.
"If it were easy, I wouldn't have come here. Just this once together….."
"Do you realize how much money has been moved while you've stood here, wasting my time?"
Three years later, Violet wasn't sure such a busy man would even bother to attend her funeral. When she decided to end it all…
"What's going on…." Violet blankly stared at herself in the bedroom's full-body mirror. The person staring back at her was her husband, Winter Blooming. Why did they switch bodies?
"I guess I've really gone crazy now."
Review
*MIGHT CONTAIN SPOILERS! READ IT AT YOUR OWN RISK! IF NOT, READ THE REVIEW ON MY IG PAGE.*
A hell lot of misunderstanding, miscommunication and evil acts…probably the most you (or I) have seen in a manhwa so far. The leads in here are extremely pitiful (probably the most pitiful people I have ever read about) and the story is extremely deep, sometimes disturbing and relatable (is that a good thing?)? As mentioned by the warning, there were scenes which might trigger people because it is mostly about committing suicide, gaslighting, threatening what not. It is just horrible yet it was so intriguing and it just sucked me in. I was so engrossed with it that I could not even stop reading. They did not really give any backstory to Violet's brother, Ash. He is a really twisted man who is using Violet to get money. I guess it was better if they had (maybe) gave the reason why Ash was like that? And her mother is just horrible. Winter's adopted and BIOLOGICAL parents are both horrible. They only used and looked for him for money. money. Whereas only Violet cared for him, hence he felt secure, warm and happier with Violet around. However, because Winter did not explain himself properly and turned a blind eye to his wife, they started growing apart so it only caused Violet to start breaking down. Currently they are on the route to divorce even though they are spending the rest of their time happily with each other and trying to clear misunderstandings and trying to right their wrongs (especially for Winter). But in the end, I really want the couple to end up happy together. Not just one of them is happy because I really ship them together. There is so much miscommunication till they are breaking apart so badly. Also, just my prediction, there might be a scene near the end where one of them ended up in an accident and thats how they died? But it will be good if this had a happy ending so I wonder how they will do that in this scenario. Anyways, this manhwa is highly recommend to you IF AND ONLY IF you are ok with suicide things. If you aren't, please don't. 
Characters
*Lazy*
Other Links
Novel
Spoiler
Social Media
~ THANK YOU ~