I Choose the Emperor Ending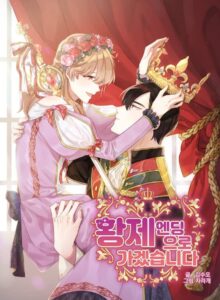 Chapters: 115
Status: Completed?
Genre: Comedy, Fantasy, Gender Bender, Romance, Shoujo, Webtoons
Ratings: 4/5
Synopsis:
Obsessed with medieval fantasies, Marina develops a revolutionary VR device that can bring fictional worlds to life. Her dreams come true when she transports herself to Lasnorok, the setting of her own novel. The problem is, she can't get back out! Disguised as a runaway slave boy named Rino, she comes face-to-face with the main character she created, the ambitious Edward Allen Dihas. Can Marina help him overthrow the emperor and survive to make it out alive?
Review
*MIGHT CONTAIN SPOILERS! READ IT AT YOUR OWN RISK! IF NOT, READ THE REVIEW ON MY IG PAGE.*
I didn't really like the starting of this manhwa because of how pushy the main character was but after that the plot became extremely interesting especially after Edward found out that Marina/Rina/Rino (gonna use Rino for the sake of this review) was a girl. So this was actually a typical manhwa but the build up is so good! There is so much about women empowerment, having courage and giving yourself more credit for the things you have and can do. Also, there is a lot about how couples should respect each other and all. There were several funny scenes and trust me, if you want to make a sticker pack (or a reaction photo?) out of a manhwa, this will be it! 
As for the ending, I am pretty puzzled as to whether it has really ended. Because I believe they could have continued the story but they didn't. BUT ANYWAYS, will recommend yall to read this manhwa because of the plot. It's just so dang good lol
Characters
*Lazy*
Other Links
Novel
Spoiler
Social Media
~ THANK YOU ~
Follow @watashiwakurousagi for more!