A Way to Protect the Lovable You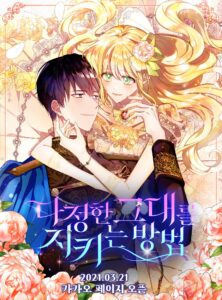 Chapters: 53
Status: Ongoing
Genre: Drama, Fantasy, Historical, Manhwa, Romance
Ratings: 5/5
Synopsis:
I was forced to marry a man who hates me. Which is to be expected since my mother killed his family. "I want you to promise me before we get married. After 6 months of marriage, I want you to divorce me." "…What?" "I know you were forced to marry me. We don't need to draw out an unwanted marriage, do we?" "An… unwanted marriage?" He dazedly kept on repeating my words.
Review
*MIGHT CONTAIN SPOILERS! READ IT AT YOUR OWN RISK! IF NOT, READ THE REVIEW ON MY IG PAGE.*
I really love the couple and they are probably one of the top couples in all the manhwas which i've read. This storyline is starting to look so familiar to "What it means to be you" but I hope that this will not turn out to be as toxic as that. There are just so many misunderstandings, making the readers frustrated. But for once, I actually understand where they are coming from and it is a good kind of annoying when Leticia wants to protect Ditrian and Ditrian wants to protect Leticia. In the end, I hope Leticia gets her happy ending (which she did according to the spoilers) and her mother be damned to death. If you think about it, her mother is just a pawn of the evil guy. She is not the mastermind but was just manipulated by someone to be the pawn of the evil. Also, I'm curious about Leticia's brother, Julius and the previous saintess/goddess. They were barely mentioned but I think they will reveal the whole truth at the end when Leticia finds her wings. 
Also, this is where the real spoiler comes in the review i guess but in the end, Julius revived and he became Leticia's wing??? So weird like was it necessary to revive Julius again? I personally didnt think so because since he was already dead at the start of the manhwa, I think they should just make it that way unless Leticia is still unable to find her last wing. Anyways, I found a better spoiler link than the one I originally read so hope this will be better (evidently have not tried it yet lol). Highly recommended but be careful because there is a bit of abuse there.
Characters
*Lazy*
Other Links
Novel (not really worth reading)
Social Media
~ THANK YOU ~
Follow @watashiwakurousagi for more!