Don't Call Me Sister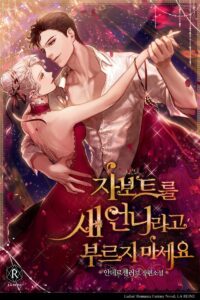 Chapters: 51
Status: Ongoing
Genre: Comedy, Drama, Fantasy, Historical, Manhwa, Romance
Ratings: 5/5
Synopsis:
At the age of 19, I, Juliette Winchester, inherited the legacy of my stepfather and became the owner of the Winchester family.
I thought my mother would run the family, so I could live a comfortable life. When I found out I might die from a car accident, I rewrote my life plan.
"From now on, I will be the real owner of Winchester."
I will protect Winchester's wealth and honor, the future of my old and new sisters, and win the loyalty of a man who was the start the night at a ball, all by himself.
"Miss Winchester, I will only tell you. Actually, my real identity…"
"Shh. Keep your secret, Melik. The only thing I care about is a man's kind heart."
"…But why have you been touching my thigh since a while ago?"
"Don't get me wrong. I was exploring where the man's heart comes from."
She has a little temper, but it turns out she's a caring older sister.
Review
*MIGHT CONTAIN SPOILERS! READ IT AT YOUR OWN RISK! IF NOT, READ THE REVIEW ON MY IG PAGE.*
Really nice and interesting. Love the plot but might be getting a little bit too complicated. This one is unique because they progressed to kids pretty quickly and I wonder what's the purpose of that. I love the main couple too because the guy is so good looking and the chemistry!!! I like the plot twist which makes it unique but I hope that I'll still love it when the Manhwa continues. Reminds me of "I Raised Cinderella Preciously". But quite a good read, will recommend.
Characters
*Lazy*
Other Links
Novel
Social Media
You might also like:
I Raised Cinderella Preciously
~ THANK YOU ~
Follow @watashiwakurousagi for more!