Kill the Villainess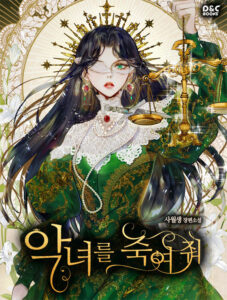 Chapters: 55
Status: Ongoing
Genre: Comedy, Drama, Fantasy, Historical, Manhwa, Romance, Shoujo
Ratings: 5/5
Synopsis:
I reincarnated in a novel inside the body of a villainess named Elise who poisoned herself when her fiancé, the prince, married her childhood friend, the maid Helena. From the moment I realized this, I had only one goal. Escape from the world in this novel. Even after death, I tried to get out of this world but the 'world' did not allow it. However, after rejecting the path of "Elise" in the original novel, the men who had persecuted and ignored Eris began to beg for her interest and affection. "Who are you?" the priest who revived Helena asked. "You… are you really Elise?" even the warrior who pledged eternal loyalty to Helena asked. "You have changed," said the prince who rejected Elise in order to marry Helena. It was strange. No one was interested in Elise before. "I don't want to get affectionate even as time passes." She has no confidence in loving this world.
Review
*MIGHT CONTAIN SPOILERS! READ IT AT YOUR OWN RISK! IF NOT, READ THE REVIEW ON MY IG PAGE.*
I LOVE IT I LOVE IT I LOVEEEEEEE IT!!! At first I really disliked the FL because of how she doesn't want to just make the best use of her life and rather return to her old life. But once I learned and understood more about her circumstances, I actually found this very unique and enjoyable. This reminds me of "It Looks like I have Fallen into a Reverse Harem Game" except this aint a reverse harem. I really love the knight who is protecting her and am so glad that there IS an ML here because I thought she will be helpless in that fictional world. I love the couple a lot and I am so excited to know how this story will turn out. Highly recommended!!!
For those who want spoilers: It is really not much so though the link is below, will not really recommend reading but if you want to know the ending then go ahead.
Characters
*Lazy*
Other Links
Novel
Social Media
You might also like:
None
~ THANK YOU ~
Follow @watashiwakurousagi for more!