Your Majesty, Please Don't Kill Me Again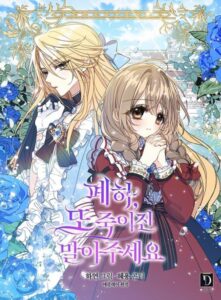 Chapters: 70
Status: Ongoing
Genre: Drama, Isekai, Romance
Ratings: 4/5
Synopsis:
Following the emperors unjust massacre of her family and her own miserable death, Laliette Bellua wakes up to find that she is in the body of her 12-year-old self. She immediately sets her sights on a single goal: suck up to Emperor Rupert Edgar Laspe Vellelum and save her family. Laliettes plan is foolproof, except for one tiny detail In her present timeline, the future emperor is still masquerading as a princess named Rapertte! With only a single suitcase and some change in her pocket, she sets out for the capital to become the princesss closest and most beloved attendant. Can Laliette prove her ability to keep a secret? And more importantly, will she be able to win the favor of the cruel and sadistic Rapertte?
Review
*MIGHT CONTAIN SPOILERS! READ IT AT YOUR OWN RISK! IF NOT, READ THE REVIEW ON MY IG PAGE.*
Honestly I really love it and am excited to keep up with it. Just that the story can be quite confusing at times and it is a happy story on the surface but a very scary and sad one if you think deeper about it. This story is typical but unique. It is typical because it is like all the other FLs who want to save her family from death etc and at least this FL have the brains to look for a way to prevent her family's death. But it is unique because of the amount of betrayal and politics in this story. It is quite scary and sad because this happens in real life too. Highly recommended though it is a 4.
For those who want spoilers: Pretty complete and there is a really interesting plot twist which changed the way I see this story.
Characters
*Lazy*
Other Links
Novel
Social Media
You might also like:
None
~ THANK YOU ~
Follow @watashiwakurousagi for more!