I Became the Wife of the Monstrous Crown Prince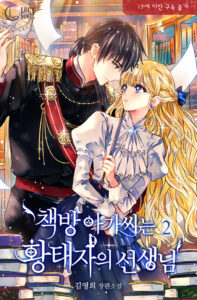 Chapters: 50
Status: Ongoing
Genre: Adventure, Drama, Fantasy, Manhwa, Romance, Shoujo
Ratings: 4/5
Synopsis:
She transmigrated into the body of Ancia, the current wife of the monstrous crown prince, Blake, in an R-19 romance novel. In the original story, Ancia committed suicide on the day of their marriage, leaving Blake with massive trauma. But this time, Ancia wouldnt do such a thing. Blake was the second male lead in the original novel. He was portrayed as a beast that possessed an exquisite facade. Yet, right now, he was behaving just like an innocent rabbit. The only person who can remove the crown princes curse is the heroine, Diana. My role is to just keep this little boy from getting hurt and then step down in time, but.. Ancia, dont leave me! This little rabbit keeps chasing me.
Review
*MIGHT CONTAIN SPOILERS! READ IT AT YOUR OWN RISK! IF NOT, READ THE REVIEW ON MY IG PAGE.*
The kids here were total cuties but I was expecting much more from the manhwa because it was already 50 chapters so I thought maybe they should be adults already. I was kind of disappointed because it was quite hyped when it first came out. But at the same time, I believe that it will be a good read in the future when there are more chapters. Can't wait for them to see them all grown up! To be honest, I'm getting more impatient about it because I'm excited to see the Crown Prince curse being lifted.
Characters
*Lazy*
Other Links
Novel
Spoiler
Social Media
You might also like:
None
~ THANK YOU ~
Follow @watashiwakurousagi for more!