Elixir of the Sun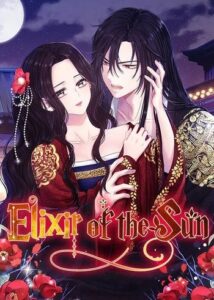 Chapters: 78
Status: Ongoing
Genre: Drama, Fantasy, Historical, Manhwa, Romance, Shoujo
Ratings: 5/5
Synopsis:
Byan is from Seo's Village but with different hair and healing abilities than the others villagers that's why she got bullied and ignored by the others…they got her mother killed and sold her as a concubine to the Emperor who was known as a tyrant and enjoyed killing However Byan discovers that she had healing abilities by feeding her blood to others and her journey begins from there Trying to survive In the Lion's den.
Review
*MIGHT CONTAIN SPOILERS! READ IT AT YOUR OWN RISK! IF NOT, READ THE REVIEW ON MY IG PAGE.*
Absolutely interesting! So glad I picked it up after dropping it actually because of all the steamy action so be mindful when reading this outside! 
At first, I only read the back few chapters of the manhwa and felt that I did not like it. But when I read the second time, I did not realise that I have read the last few chapters before so I just decided to read from the front and it was amazing! I really love the romance between the FL and ML and love how cute this relationship is though I'm not a fan of the FL. I think what is good about this manhwa will be the steamy scenes and not so much the storyline because it is typical. All I know is that I can probably get a lot of reels ideas here! (Ps. FL feels like a mistress who is trying to get the emperor's attention so quite uncomfortable)
Characters
*Lazy*
Other Links
Novel
Spoiler
Social Media
You might also like:
None
~ THANK YOU ~
Follow @watashiwakurousagi for more!