I Saved the Cursed Duke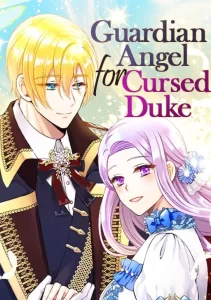 Chapters: 64
Status: Ongoing
Genre: Drama, Fantasy, Manhwa, Romance, Webtoons
Ratings: 3/5
Synopsis:
Asteria who lives protecting the grave of the gods. One day, a man who is on the verge of dying suddenly appears in front of her, disturbing her peaceful life. This man is none other than Duke Erhardt, the most handsome and youngest governor of the empire. Asteria saves the dying duke using her magical powers, but her magical powers can only be maintained if they are together. At Erhardt's request, she came to the outside world and became the fake duchess. Will Asteria, who is slowly adjusting to her new life, be able to achieve love and solve the curse?!
Review
*MIGHT CONTAIN SPOILERS! READ IT AT YOUR OWN RISK! IF NOT, READ THE REVIEW ON MY IG PAGE.*
Dropped this manhwa at chapter 8 because I could not stand how foolish and innocent the girl was, and the storyline because it was just uncomfortable to me. I wanted to try something new so I decided to give a manhwa which had a rating below 4 on the manhwa website a go so this is the manhwa! Did I regret reading it? Kind of. I actually did not like the story from the start because it was quite artificial already and it was just a weird and unfamiliar standing for me so I did not like it at all.
What really made me drop this was the girl's naive thinking of trusting people. I understand that she is suppose to be new to the human environment etc but this is just too extreme and I mean this is probably essential to the plot line right? And in the later part of the story, there is her father and another lady and I'm not sure if she is the mother or like a second wife he decided to take up but it is so weird to me hence I decided to drop it.
I only gave it a 3 because it might be someone else's cup of tea and it might actually be good but I really do not like it. So I will not really recommend y'all to read unless y'all want to try this out.
Characters
*Lazy*
Other Links
Novel
Spoiler
Social Media
You might also like:
None
~ THANK YOU ~
Follow @watashiwakurousagi for more!