Reincarnation of the Suicidal Battle God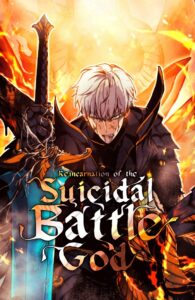 Chapters: 56
Status: Ongoing 
Genre:  Fantasy, Overpowered, Rebirth, Shounen
Ratings: 4/5
Synopsis:
A time travel action fantasy of the strongest of mankind. "Even if the disgusting gods gave me this chance, an opportunity is still an opportunity. Since they want to end up dead, I will kill them." The last survivor of mankind, Zephyr. The fight with the demons ended in defeat and the gods gave him a chance to go back 10 years in time. The demons who took everything away from humans and the gods who treated humans as beings for sight-seeing. This time, I will tear them to pieces.
Review
*MIGHT CONTAIN SPOILERS! READ IT AT YOUR OWN RISK! IF NOT, READ THE REVIEW ON MY IG PAGE.*
Took pretty long for me to finish it because the front did not really have a story line. But once the ML met Altair, I guess the story started getting more interesting. I needed momentum to read this finish,  the art was so amazing and the actions were nice. I just pity the ML a lot because there are so many mean and sh*tty people around him who are there to bring him down and only look at him as a source of entertainment (aka the Gods and his enemies). But I guess this is real life too because there might be people who want to bring you down and seeing you down makes them happy? You get my point. This manhwa is not bad but will not say it is very good.
Characters
*Lazy*
Other Links
Novel
Spoiler
Social Media
You might also like:
None
~ THANK YOU ~
Follow @watashiwakurousagi for more!