Marriage of Convenience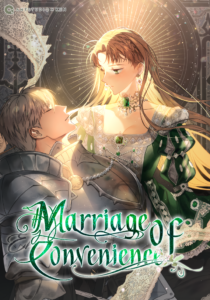 Chapters: 63
Status: Ongoing 
Genre: Adaptation, Fantasy, Full color, Historical, Manhwa, Military, Reincarnation, Romance, Royal family
Ratings: 4/5
Synopsis:
Bianca de Blanche was the wife of Zakari de Arno, but after his death, she was thrown out of the Arno family for luxury and immorality.
After wandering nowhere to the fall of her father, the Blanche family, she is driven to a shabby periphery monastery.
And at the end, she eventually died on the cold stone floor.
A villainess who doesn't know the honor. That was the life before Bianca's return….
Review
*MIGHT CONTAIN SPOILERS! READ IT AT YOUR OWN RISK! IF NOT, READ THE REVIEW ON MY IG PAGE.*
It was good but I felt that it was a bit blend…but I really love it. The art is amazing and the storyline is cliche yet interesting. This manhwa reminds me that I'll be a matriarch in this life but only because I have already read the spoilers so it is similar.
Characters
*Lazy*
Other Links
Novel
Spoiler
Social Media
You might also like:
I'll be a Matriarch in this life
~ THANK YOU ~
Follow @watashiwakurousagi for more!