Oblong Ice cream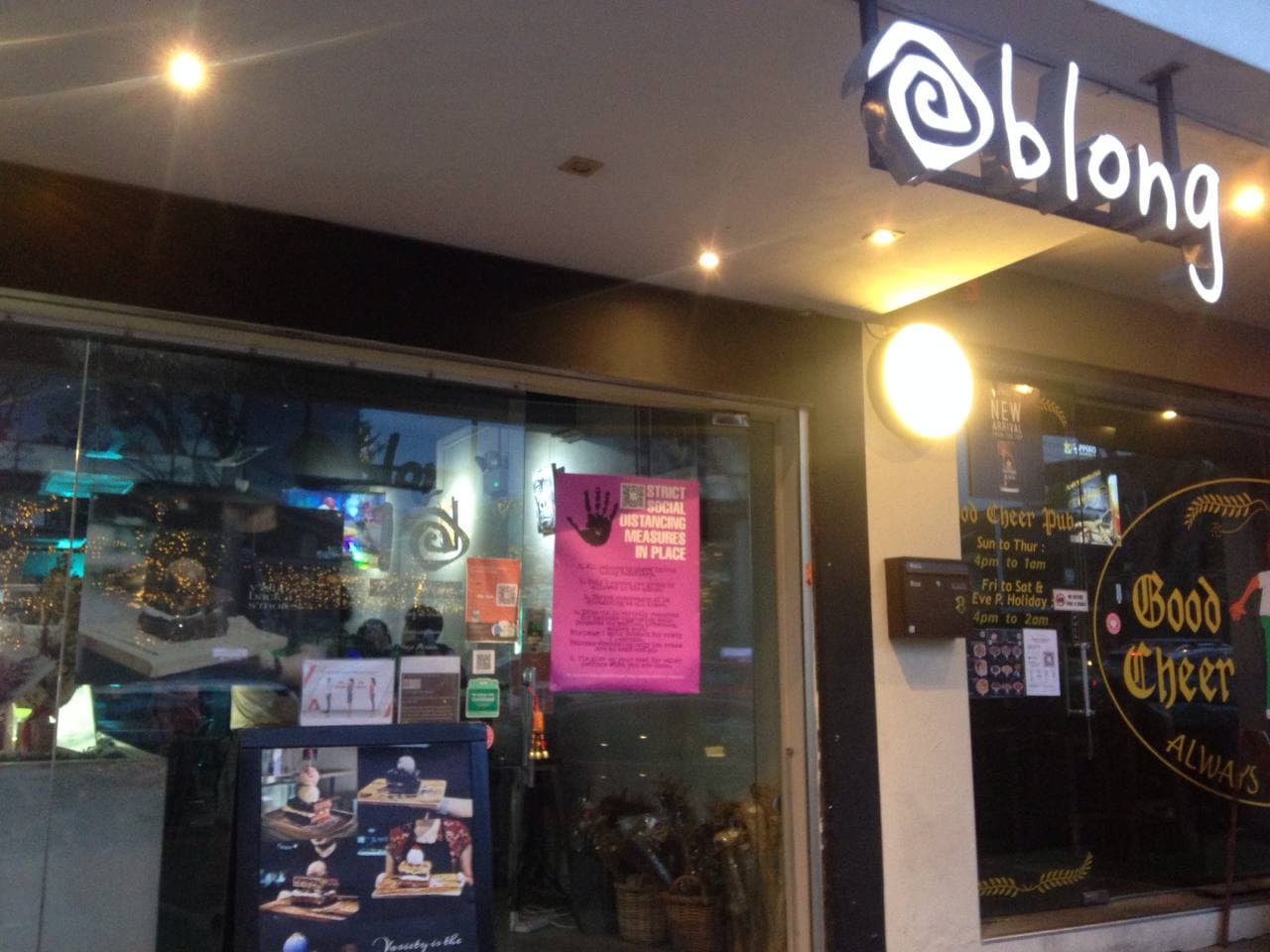 For those who feel that the weather is getting warmer for you, here is a treat I have discovered!
Oblong is an ice cream shop which also doubles up as a cafe. So if you would like to catch up with your loved ones at a place with a comfy ambience, this is the perfect place for you to go! They are located at Serangoon Garden near the famous Chomp Chomp food centre, so it is at a perfect location where you can have your dinner before having your desserts. (By the way, I searched online and tried to find their other outlets but cannot seem to find it…lmk in the comments below whether they really have other outlets ok?)
So let's jump right into my favourite part of the meal, the dessert.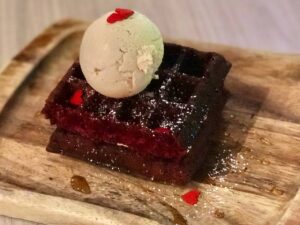 Before I start, let me give you an intro on the food served there.
First, you will have to choose the main dessert and they come in waffles or other desserts which include lava cake and brownie. For the waffles, it is being broken down into 3 more branches which are classic, premium and the supreme. (Their menu can be found online, just Google haha.) And next, we will have to choose a syrup, follow the ice cream (no. of scoops) and lastly, choose a drink. The types of drinks are being split into 3 groups as well – classic, premium and supreme, and the ice cream flavours were also split into 2 groups – classic and supreme.
This might be sound pretty heavy and a lot to take in, however when you see the menu, I'm sure you will get a hang of it!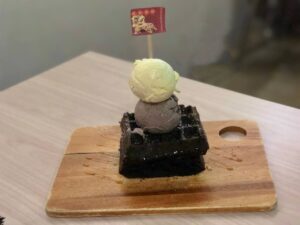 This first ice cream waffle here is the Cookies and Cream waffle with Plain Vanilla (top) and Cookies and Cream (bottom) ice cream!
Between the Cookies and Cream waffles, there is no filling and the waffles tastes sweet! The ice cream tastes normal and not that exciting, but still the waffle is interesting.
On the side note, before devouring any ice cream waffle down especially the double scoop ones, plan before you eat and also do not remove the stick in the centre. It will really help to hold the ice cream together on top of the ice cream.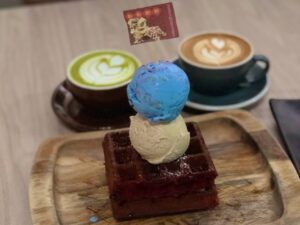 Next will be the Red Velvet waffle with Butterfly Pea Flower (top) and Earl Grey Lavender (bottom) ice cream.
Again, let's start with the waffle. Between the waffles, there is cream cheese though they might look like condense milk. The waffle is crispy yet soft and the whole flavour just burst in your mouth. I would strongly recommend you to order the Red Velvet waffle with the Earl Grey Lavender ice cream because the combination of both together is just so good!
The Earl Grey Lavender ice cream is not the best I have tasted however, it is still decent because it has that Earl Grey taste and that Lavender smell. The one that is pretty interesting will be the Butterfly Pea Flower ice cream.
Butterfly pea is one of the only unique food to be blue and it taste normal (means not exciting or not wowed by it). However, in the middle, there are small dried up and shrivelled blueberry like toppings which are actually used to decorate the top of the ice cream tub at the display counter. They tasted weird and it was just not to my liking. If you are adventurous, please try the Butterfly Pea Flower and prove me wrong about the taste in the comments section below. I would like a different view about it.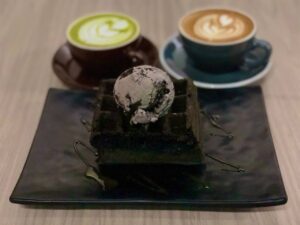 Last but not least, we have the last ice cream here.
This ice cream waffle comes with a Charcoal waffle with a single scoop Cookies and Cream. Doesn't this ice cream look similar to the Cookies and Cream ice cream I mentioned earlier? Well, both of them do not have fillings and both of them are of the same colour – black. So, to tell the difference between both waffles, one will be sweeter than the other. And yes, the Cookies and Cream waffle will be sweeter than the Charcoal waffle!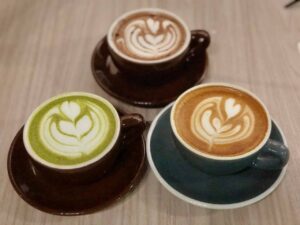 Before we end off, let's talk about the 3 drinks which was ordered with the ice cream waffles. The green drink is the Matcha latte, which is a haven drink for all matcha/green tea lovers. The light brown drink is the Mocha latte, which is a drink catered to coffee lovers. And lastly, the brownest drink in the picture above is the Hot Chocolate, which is catered to people of all age groups!
If you were to ask me to choose which one I will recommend, it will be the Matcha latte. It was actually quite a tough fight between Matcha and Mocha but because I am a Matcha/green tea lover, I leaned towards the Matcha drink. The hot chocolate was hot chocolate, not milo so for milo lovers, this might taste different for you.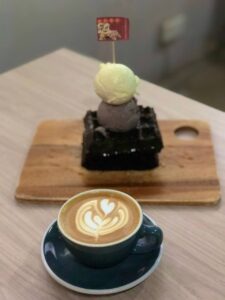 So if you are someone who likes cafes and loves desserts or have a craving for them, go check Oblong out because they have a myriad of flavours to choose from and to tickle your taste buds. I would say that though their ice cream tastes pretty normal and doesn't wow me much, their waffles are a must-try because they are all good (especially with the fillings) and so unique! I'm pretty sure you will be spoilt for choices, so hurry and try Oblong ice cream now!
Ending off, don't forget to follow the socials to stay updated! Support this page by joining us on the food journey now! Happy reading and happy eating!