Awfully Chocolate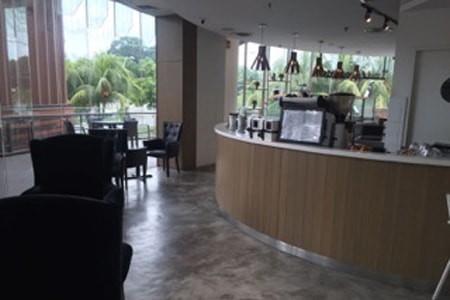 Rating: 3/5
---
Hi guys! Welcome to my blog!
Nothing is better than chilling in a quiet cafe and eating desserts on a weekend/weekday afternoon!
Awfully chocolate desserts are not overly sweet but something you would be craving for regularly and never tire of it. It first started from one simple cake shop in Singapore to many different outlets (cafe, restaurants and shops) spread around the world. They have a wide variety of chocolate cake, from their Salted Caramel Chocolate Cake to their Creme Brûlée Cake and to their best sellers – the All Chocolate cake. They too sell other types of desserts such as chocolate bars, homemade cookies and even drinks, E-gift cards and their premium dark cocoa powder or caramelised chocolate couverture (both are seasonal special).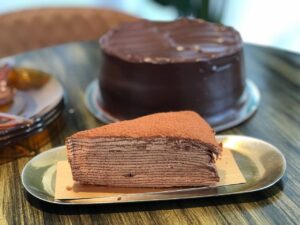 For the first dessert, it is called the Chocolate Mille Crepe. Unlike their Original Chocolate cakes, this crepe is a bit more milky and lighter so it is not as filling as eating one slice of the All Chocolate cake.
I personally prefer this cake to the their Original Chocolate cake series as I find dark chocolate a bit strong for me and I too prefer the milky taste of chocolate. However, this is not the typical crepe which is too milky, it actually gives you the balance chocolate milk taste. On top of this crepe, there are chocolate powder which might drop onto your clothes and it will most likely be hard to wash it off so be careful while savouring this crepe!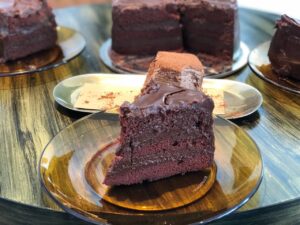 Moving on, we have their best seller – the All Chocolate cake! I tried ordering this in one slice but unfortunately, they only sell this in one whole cake. So we bought the cake and ate some slices at the cafe before bringing the rest home. (Just looking at this cake made my stomach growl.)
The texture of this cake can be seen very clearly (from the picture) and it definitely looks heavy. The type of chocolate on this cake (and on most of Awfully Chocolate's cake) is none other than dark chocolate. Some of you might not know but dark chocolate means that there is more cocoa so it is healthier. So for those who love this cake and can eat it everyday or every other day, do not feel guilty because it is healthier than your normal cake! When you bite into this cake, it is soft, moist and the flavours tastes very rich in your mouth. That's why this chocolate cake is their best seller!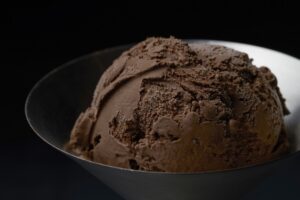 Credits to Awfully Chocolate
Now, how can we not talk about their famous Hei Ice Cream? I would usually order their Hei Ice Cream when having my desserts at awfully chocolate, however, this time I decided to eat their cakes because I am more of a cake than an ice cream fan (no offence to all ice cream fans out there).
From what I remembered, their ice cream was also pretty rich in cocoa because it was also dark chocolate. It has a great balance of chocolate in it such that you will go back craving for more! But not to worry,  you can buy their ice cream back! And best of all, it comes in a pint, so you can savour it at home as much as you want!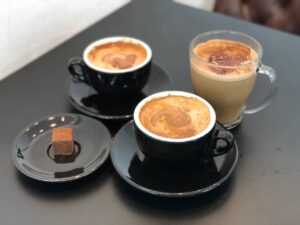 Lastly, there are the drinks! This is my first time ordering the drinks from Awfully Chocolate. We ordered the Coffee with Truffles which only came as hot (far right) and two Coffee with Hei Ice Cream (so I did eat Hei Ice Cream but in coffee lol), which only came as iced. The coffee was really bitter for me because it was true espresso. For those who love their coffee bitter and are true blue coffee drinkers, this is your cup of coffee! (The pun…)
For those who cannot take coffee like me, the trick is to let your ice cream melt in the coffee. I made a mistake by eating the ice cream finish before drinking the coffee and it was really bitter. So this might sound disgusting but it will most likely save your drink.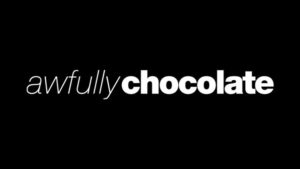 Credits to Food Grab
So Awfully Chocolate is really a haven for chocolate lovers and though they are pricey, it is actually worth it because they use true and real cocoa powder to make your desserts! Apart from the food, the cafe atmosphere is also really good. I went to the Greenwich V outlet and it was really peaceful and cozy to spend your lazy afternoons aways either doing work or relaxing.
Awfully Chocolate is really worth it and I would really recommend you to give it a try!
Happy eating and happy reading! Remember to follow our socials!
---
 We might have tried more food!  
Click @yz_foodntravelog now to find out more!
Credits of featured picture to Awfully Chocolate.