Waiting For You Online 就等你上线了
Waiting For You Online
就等你上线了 jiù děng nǐ shàng xiàn le
Author: 羲和清零
155 Chapters + 6 Extras
Ratings: 4/5
At some point in my life, I spent a few years playing a game and met a very special friend. For those years, both of us spent days and nights playing together in the game, battling enemies and chatted from night till 5 am the next morning before sleeping for an hour and then waking up and going off to work. We were the best buddies watching out and helping each other in the game. We even kept in touch throughout the day through instant messaging. We knew of each other's account userids, passwords and telephone numbers but we never met and never called each other. Suddenly I got tired of the game. I promised I'll return 3 months later hoping to take a break.  But I never did.
"Waiting For You Online" reminded me of my gaming buddy. There are indeed countless of such relationships in the gaming world; some come into fruition but some others turned into nothingness.
During my gaming break, I watched several Chinese dramas trying to get rid of my gaming addiction and was shocked that Chinese dramas have improved in leaps and bounds in every aspect. I ditched Korean dramas and started binge-watching Chinese dramas from China. I never watched another Korean drama again after catching on this boy-love or danmei / yaoi bug. 😂
One of the gaming Chinese dramas I strongly recommend is Wei Wei Yi Xiao / WWYX (微微一笑) . It is very similar to the game played in "Waiting For You Online" (WFYO). This drama stars highly popular and handsome male actor, Yang Yang and you may watch this drama on YouTube. I re-watched this drama at least 5 times! But let me assure you WFYO is many many times better than WWYX.
There is another similar gaming Chinese novel I read and watched the animation too and loved it tremendously. It is "The King's Avatar" (全职高手) . The drama is 1 year overdue by now but I guarantee you will love it's Chinese animation which I rewatched several times too. The Chinese novel has more than 1700 chapters but trust me, this is serious good stuffs here if you are into virtual RPG gaming. That's where I learnt the gaming terms, "main tank", "draw aggro", "healer", "dungeon" and so on. However, the author was not keen to add romance into this novel, whilst WFYO did and its BL some more! My wishes are satisfied with WFYO! 😍
~SPOILERS~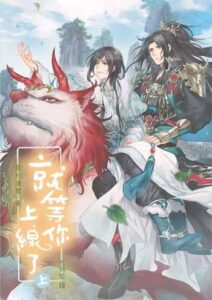 He Jin played an online game, Spirit Fairy, when he was 15 years old in high school. He met an online friend who was a year younger than him. They played together in the game whenever they were online and in order to gain better benefits, they got "married" in the game. He Jin's control-freak mom discovered that he was playing online games. Thus He Jin was beaten up and punished by his mom as he promised never to play games online again.
To He Jin's online friend, Qin Yang who was 14 at that time, his mom just passed away and his dad was busy running his own business. His grades were not fantastic either and he didn't have any friends. He Jin was his very first only  (online) friend whom he talked to and who had encouraged him to study hard. But suddenly, He Jin disappeared and never came online for 8 years…. Qin Yang was heart broken. Being abandoned, Qin Yang never "divorced" He Jin in the game, secretly believing that they might meet again one day. During these 8 years, he worked hard in his studies and played hard gaming and became the top gamer and celebrity of the game. He is "Fire Ruthless" in the game.
Then one day… Qin Yang's (Fire Ruthless)"Wife" came online! Hahaha!!! Yes… this is where the novel and the fun starts! Fire Ruthless is not only the top gamer of "Demon God" (originally Spirit Fairy), but in reality, he as Qin Yang, is also a Hua University's tennis star and school idol due to his incredible good looks. He's in Year 2 while He Jin is one of the top students in Year 3. They stayed in the same block of the dormitory and bumped into each other one day, not knowing of their gaming relationship until one day, Qin Yang found out He Jin's identity in the game!!!!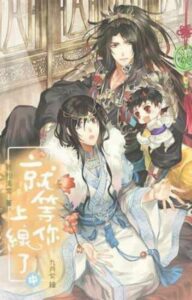 He Jin came online again in "Demon God" (the older version was called  Spirit Fairy) out of curiosity as his room mate told him about the game he was playing was going to have a holographic interface soon, and urged He Jin to participate in a contest to win the holographic helmet. He finally met his "Husband", Fire Ruthless online….
Yes!!! And it's time for action! Our dearest male lead, Fire started helping He Jin find back his memories in the game where he left 8 years ago and the feeling again, followed by wooing him in the game and in reality. All these while, our very dense He Jin failed to realise that Qin Yang and Fire Ruthless are the same person!!!
He Jin was initially reluctant to start an "intimate" online relationship with Fire knowing that Fire was 100% male. He's not ready to be in a relationship with the same sex  in the real world either and besides how would he face his traditional and strict family and friends? He went through a lot of internal struggle. (But.. I didn't… I made up my mind already… 😂)  They both got on so intimately virtually that over time, he developed feelings and it was hard not to carry these feelings to reality.
On the other hand, in reality, Qin Yang was wooing He Jin too, asking him out for late night runs, teaching him how to play tennis and had a date going out to buy tennis racket with He Jin.
He Jin was torn between his virtual husband and the school tennis star whom he starts to fall in love with in reality, not knowing they were in fact the same person. Until one day, he found out! Oh dear… how humiliating it must have been for him. 😱
This novel is really hilarious with all the funny things He Jin and Fire did in their gaming world like having a baby, and then having Fire switch mode to Qin Yang in reality later on. I laughed so much and grinned so much reading all the sweet things our bl couple did together that the people around me started looking at me with suspicion.
He Jin and Qin Yang are the sweetest couple and they loved each other immensely but He Jin was forced to leave Qin Yang abruptly again for the second time for some reason. So much love yet so much angst! It was truly very sad and depressing that my heart ached and cried out for the hurt and pain our bl couple went through. Tears started flowing down my cheeks and I started sniffing in the living room… oh gosh… I'm so shameless… my family members were nearby so I went to hide inside my room to continue crying.
This novel gotta have happy endings, otherwise I would ditch it into my trash can and never bat an eye on it ever again! And… I went reading it the 2nd time…. hahaha…. 😂
I'll rate this novel 4/5. This novel is definitely worth reading for its hilarious fun and sweetness. I felt very happy and excited reading it. My only grouse is that there's no mature content in the Chinese version. I do not know if the English translator plan to add in mature contents in the translated version or not, but it didn't affect the enjoyment of reading this novel nor the ratings. I really love this novel and will strongly recommend it!
~After thoughts~
I've been reading many Chinese bl novels now and I'm so inspired to visit Beijing this winter. Actually I'd rather visit Beijing in Spring or Autumn. "Waiting For You Online" has a good write up on a winter holiday in Snow Town of Harbin and I am planning to take a high speed train and sleeper train to and fro Beijing and Harbin (inspired by "Lawless Gangster"). Just pray that I may survive the winter there this December!!! 🤗
A friend of mine told me yesterday she was shocked there's actually a Gusu Town near Suzhou. Then I replied her…,"Now then you realise why I had wanted to go Shanghai and Jiangnan to visit all the water towns there… it's all because of Mo Dao Zu Shi (Grandmaster of Demonic Cultivation)!!!!!  🤣 But I'm hoping to make this trip alone next March. It would be beautiful to stay in those tea houses along the rivers, laze, have tea and read a book in the afternoon, walk around and take photographs quietly.
English Translation: Completed
Read it here:
https://www.asianhobbyist.com/waiting-for-you-online-69/
Chinese Raw: