Years of Intoxication 一醉经年
Years of Intoxication
一醉经年

yí zuì jīng nián
Other titles: Intoxication
Author: 水千丞 shuǐ qiān chéng
78 Chapters + 3 Extras
Ratings: 4/5
⚠️TAGS include: angst, abusive relationship, mature content, rape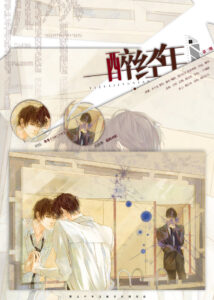 Years of Intoxication is about a toxic relationship between a scum gong, Song Ju Han (SJH) and an introverted engineer, He Gu.  He Gu loved Song Ju Han since high school and they had been fuck buddies for the past 7 years. Song Ju Han had many sexual partners and he didn't know what love was and how to love someone. He Gu thought the only way to continue his relationship with Song Ju Han was probably to close both eyes to his philandering ways.
After several heartbreaking events, He Gu finally snapped and walked out of the relationship. SJH finally realised how obsessed he was with He Gu that he gave all that he had, including his life, just to have He Gu love him again.
This novel is one of my favourite angsty novels by, Shui Qian Cheng. SJH was really a scum and he really made my veins crawl. He Gu was a prisoner of his infatuation for that scum. He was scared to leave Song Ju Han and could not imagine what his life would be like without him. I guess, that is what victims in abusive relationships are afraid of. But I am glad He Gu managed to get out of the relationship. This novel has a very sweet happy ending and there is positive character development for both Song Ju Han and He Gu. Song Ju Han learnt what love was and how to love and respect the other; while He Gu found the life he wanted, to be firm in his decisions and principles; and to stand up against those with status, fame and wealth.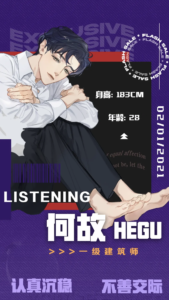 I like this novel because the possessive scum "gong" was very obsessed with his "shou". My favourite part was after He Gu walked out of their relationship, he had a fling with Zhou He Yi and then told Song Ju Han that he had already slept with someone else. Hahahaha!!!! It was such a satisfying slap on the face for Song Ju Han. I like this novel too because Song repented after realising the  bastard he had been all these while. I also like the fact that even though He Gu had a short fling with Zhou He Yi, he didn't go casually sleeping around with others like what Song did in the past. He had his principles and was never all out to take revenge on Song Ju Han.
This novel made me reflect on abusive relationships in real life. I believe many victims are like He Gu – afraid to leave the abuser, afraid of what life will be like without them. They are afraid to take the first step out to change their lives. The abusers are probably the bread winner of the family or the person they love dearly. He Gu was pushed to the edge too and he was lucky – he had his friends and family to stand by him. And the fact that Song actually loves him a lot and willing to learn, listen and change. Are scums in real life willing to repent and change for the better like Song Ju Han ?
Song Ju Han "You are very clean. I won't allow anyone to touch you because that's your only advantage."

He Gu "What you gave me might be insignificant to you, but I have given you my everything."
~SPOILERS~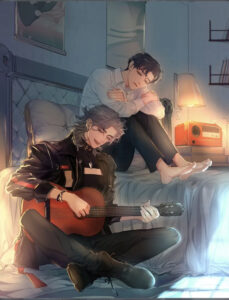 Song Ju Han, 26, was a hot celebrity. He had a very good voice and was very talented in singing and writing songs. He inherited his stunning good looks from his German supermodel mom and his rich dad was the owner of the Song Entertainment Group. He had always been the centre of attention and got whatever he wanted. His parents were divorced and so he didn't know what love was between a couple. He was good looking, rich and young and his fans loved him. He thought he deserved to have all the fun he wanted and everyone else around him should be at his beck and call. He was proud of his harem of male and female sexual partners.
He Gu, 28, was an introverted engineer and feared crowds. He met Song Ju Han in school when he was 18. He was smitten by his good looks and touched by his singing voice. 3 years later at an alumni event, he met Song Ju Han again and had his first sex experience. It was very painful and he bled but SJH had already left. Later when he called him, SJH was already with another girl. This continued for the next 7 years of a fuck buddy relationship with SJH. He Gu tried to sound SJH for a serious relationship but was humiliated. He was infatuated with this big rock star and his good looks. As long as he could be with SJH, that was good enough, it didn't matter if SJH had other sexual partners because he only blamed himself for not bearing to leave him. Besides having to put up with SJH's philandering ways, He Gu had to also put up with his moods, bad temper and humiliating and demeaning words at times. However, there were times when SJH was good to him, like a sugar daddy. He  bought him a house, bought him a car, gave him money and so on.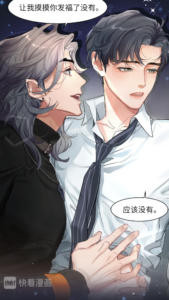 Their relationship turned toxic when an old friend of theirs, Feng Zheng returned to China from America. Feng Zheng was interested in He Gu and Song Ju Han was jealous. In fact, SJH was jealous of anyone who were on friendly terms with He Gu and that also included He Gu's boss, Gu Qing Pei (see Beloved Enemy). To SJH, He Gu's only advantage was that he was very "clean" as he had sex with SJH only and nobody else. Yet on the other hand, SJH was entitled to multiple sex partners.
The couple quarrelled over Feng Zheng and Zhuang Jieyu. SJH humiliated He Gu and raped him when he got angry. After quarrelling and not meeting each other for sometime, they made up again later on with the help of Xiao Song, SJH's assistant. The saddest scene was when He Gu took off early from his work and rushed to attend SJH's concert. And after the concert he went to the backstage to look for him, only to find SJH screwing a female artiste. And shortly after that, SJH went to He Gu's house and had the cheek to want sex with him and even told him about the the women he just screwed.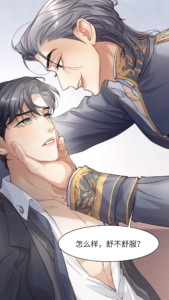 He Gu bore the pain in his heart and tried to steel himself to face all these. His world collapsed when he later found out that Feng Zheng used to be SJH's fuck buddy before him.They fought and He Gu and told SJH their relationship was over. But SJH once again caused trouble at He Gu's house which resulted in He Gu taking the blame for SJH, lost his job and reputation, had his private details exposed publicly by SJH's fans.
Luckily He Gu's mom helped him and He Gu moved out of the apartment that SJH had gifted him and returned to his old house. He Gu no longer wanted to see SJH anymore but SJH apologised and begged him to return to him. At some point, He Gu relented and they got together again after SJH promised that he will not sleep with any other people. The last straw was when the female artiste whom SJH screwed the other time confronted He Gu and told him that they were going to get married and have children. By then, He Gu's world collapsed for the final time. He had given everything to SJH including 7 best years of his life and he had nothing more to give. SJH admitted to the news. They had sex for the last time and after that He Gu packed his bag the next day and flew to Europe for a holiday to escape SJH.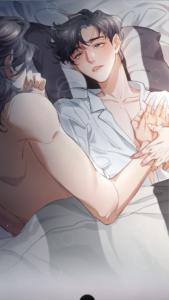 There in Europe, he met his driver and tour guide, Zhou He Yi. ZHY was a bubbly young man who fell in love with He Gu. The two hit off very well, making He Gu realise what he had been missing for the past 7 years of his life. He also realised that without SJH, he could also live his life well, make new friends and become more independent. He even managed to resolve his enochlophobia. He had good impressions of ZHY and had a very short fling with him. But their relationship was short-lived when SJH kidnapped He Gu. Later that scum even caused trouble in his mom's company.
SJH realised how much he missed He Gu and what He Gu meant to him. He tried all ways to change for the better but He Gu wouldn't even bat an eye at him. In the end, he announced publicly that he loved He Gu and gave up his on-stage career and decided to only write songs and stay with He Gu, but He Gu's heart for him was already dead. The couple only got together again after SJH rescued He Gu from some thugs and injured himself severely. It was a realistic happy ending and a very sweet one. If you were He Gu, would you have forgiven Song Ju Han too ?
Shared Universe:
Disclaimer: Photo credits to the free chapters of Years of Intoxication Manhua from Kuai Kan Man Hua.
English Translation: Completed
Read here:
Nastriumden blogspot (Complete)<<— need to block URL redirects under privacy settings in your web browser
English translation in progress:
Novel and Manhua
https://lizonkanovels.com/translation/yoi/
Chinese Raw: