Professional Stuntman 职业替身
Professional Stuntman
Other Titles: Professional Substitute, Professional Body Double
职业替身

zhí yè tì shēn
Author: 水千丞 shuǐ qiān chéng
121 chapters + 3 extra
Ratings: 4/5
⚠️TAGs include: smut, mature
One of my favourite Chinese bl novels! This is the 3rd novel of the "nuexin series" in a shared universe written by 水千丞 (Shui Qian Cheng).
3. Professional Stuntman
I had posted reviews of the other 2 novels earlier – Beloved Enemy and Years Of Intoxication.
"Nuexin" (虐心)means heart wrenching, emotionally draining. That's what I like… lots of angst, anger, sadness and frustration. But when it's mixed with loads of sweetness… it's a winning recipe for a satisfying bl novel to binge read.  😂
NOVEL SPOILERS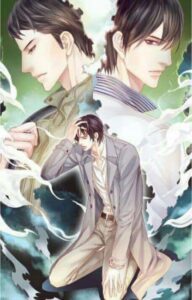 Zhou Xiang (ZX) was a professional stuntman or body double for a famous movie star, Wang Yu Dong (WYD). When WYD first debuted, ZX was his stuntman performing difficult actions that WYD could not accomplish. In order to bring WYD to fame, the media company and agency promoted the film that all actions were performed by WYD. As a result, many fans were swooned by the actor and his cool charming action moves, not knowing that WYD had used a body substitute.
One of these fans was Yan Ming Xiu (YMX). He was 16 years old then. At that time, he was a hot blooded teenager who just realised that unlike most of his friends, he preferred men instead. He was smitten and aroused by the sexy back of WYD and all those cool action moves and became a huge fan of WYD. (It was actually ZX's back.) While his plan was to eventually become a couple with WYD, he was dismayed when WYD courted his sister instead.
The Yan Family was the richest and most powerful and influential family in the city.
One day, while ZX was filming in the studio, he was hugged from the back by YMX who had mistaken him for WYD. YMX had just graduated overseas (20 years old now) and his first stop from the airport was the studio to meet WYD.
ZX saw the handsome YMX and later offered him a lift to his sister's house but there was a traffic jam and YMX decided to stay the night at ZX's house! Lol!!!! You can just wonder how excited ZX was!!! Hahaha!!! And the sexual tension probably started in the car! 🤣🤣
ZX and YMX enjoyed being in each other's company. YMX was jealous about the relationship between his sister and WYD. Cohabiting with ZX and having him as a fuck buddy gave him lots of comfort. ZX was invested in the relationship treating YMX with love and care, but in YMX's heart, he was still aching to bed WYD. To him, ZX was just a substitute for WYD. Since he cannot obtain WYD, ZX was the closest substitute he could get. Until one day ZX discovered that YMX had treated him as WYD's substitute all these while! How humiliating and hurtful  it was for him. Imagine being a substitute for WYD at work and even private life, ZX was a sex substitute for WYD. That was the ultimate he could tolerate. He left YMX and his home.
For the one year that YMX and ZX cohabited, YMX had grown to love ZX unknowingly. ZX was his greatest source of comfort. Their body chemistry and temperament felt so perfect together. They were just made for each other only.
His blind obsession for WYD for many years made him fail to recognise the fact that the person he really loved was ZX.
A very unfortunate incident sparked YMX's jealousy and he detained ZX forcefully at home, raping and humiliating him.  ZX managed to escape YMX and eventually took up a very dangerous assignment with a documentary filming crew where he could be away from home for several months. He tried to get over his feelings, the hurt and pain inflicted by YMX during this time. However, he fell off the cliff and died one stormy night in the mountains.
And the novel starts here!!! Two years after that unfortunate accident, ZX's soul woke up in the body of another Zhou Xiang! But this new body is 25 years old, almost same height same built, very similar back and look even more handsome! These 2 Zhou Xiangs met with accidents on the same day, but the 30 year old stuntman ZX died and this younger ZX went into a coma for 2 years. Perhaps one way to explain this coincidence is that the grim reaper collected the souls of the 2 Zhou Xiangs by mistake. The soul of the stuntman ZX was not supposed to die but it was too late, so he returned the soul and placed him on the body of the younger ZX.. or the grim reaper returned the wrong soul to the wrong body… oh whatever! Hahaha! 🤣🤣🤣
The excitement starts here really … after that depressing episodes of ZX's previous life! Look out for the peak of the novel at Chapter 87! I'll stop my spoilers here. The plot can only get better, trust me and you must read this novel! 😂
~My Thoughts~
This is really one of the better danmei novels written by the author, Shui Qian Cheng. I like her writing style and I thought picking up another of her novel is going to be a safe bet. The next book that I am quite interested to read is "Dragon Blood" 《龙血》or alternative name of Godfather 《养夫》.
In this novel, what I like is that the MC, Zhou Xiang, did not give me a feminine feel. I would have hated it when danmei authors gradually (usually) portray the feminine characteristics (through the characters speech, thoughts and actions) of the MC.
Shui Qian Cheng's writing style is very bold and leaves the readers with room for imagination, which I really like about – dare to love passionately, dare to hate to the bones, let you feel all the angst, frustrations and anger and bring you for an emotional roller coaster ride. That's why I am so engaged with her novels that I'll binge read the entire book and give up sleeping and eating!
Her novels are also very mature and this novel reflects how modern Chinese society perceives homosexuality. The different attitudes and reactions from 2 types of families – the working class and the influential super rich. The final stance taken by the 2 families, although not ideal but was satisfactory and realistic. Ultimately, I feel that for a gay couple to persevere to be together and resist family objections and withstand societal criticisms or discriminations, their love for each other must have been really really immense and enviable. I, for one will always give them my blessings and hope their love will last forever. Love transcends gender, age, religion and race. Most importantly, as Zhou Xiang explained to YMX's mother, since the 2 guys are so in love, why should parents bring in another lady and ruin her life in a miserable loveless marriage with YMX for the sake of procreation?
English Translation: Complete
Read it here:
2. https://nuexin-novels.blogspot.com/?m=1
3. https://rosyspell.wordpress.com/rebirth-the-unique-substitute/
Chinese Raw:
https://m.blshuku.com/b/2/2206_1/