True Star 巨星
True Star
巨星

jù xīng
Author: 万灭之殇 wàn miè zhī shāng
4 volumes and 342 chapters!
Ratings: 4/5
⚠️Warning: smut, mature content, harem, rape
That's the reason I've been so quiet this entire week! Haha… 😂 I was halfway through Chapter 9 of "The Earth Is Online" but the story was challenging my intellect so I  ditched it for the time being and dived into "True Star". Oh boy! This story got me hooked! I read 52 chapters within a day!
~SPOILERS~
As with the review I did for Rebirth Of A Supermodel this story has the element of transmigration.
The story started with Tang Feng, an outdated idol with a bleak future waking up in a hospital after a near death drowning incident. But he's not the original Tang Feng, but Fiennes Tang who died of a heart disease. Fiennes Tang was a famous Hollywood American Chinese Superstar who is well-respected and loved. His soul had transmigrated to the body of Tang Feng after his lonesome death due to a heart disease.
Well… the wonderful thing of all is that when Fiennes died lonesome in his young life at 38 years old, God decided to make it up to him by blessing him with 3 rich and powerful lovers in this current life!!! 😍
When Tang Feng was discharged from the hospital, he was brought to the mansion of rich tycoon playboy, Charles where he was drugged and raped. 😲
But Charles treated him very well and fell in love with him. Thereafter, with his background (knowledge, talent, mannerisms, temperament and aura) as the late Fiennes Tang, Tang Feng began his journey to work his way from a down-trodden idol to super stardom again in Hollywood, China and worldwide.
The interesting vibe of this novel is Tang Feng's immensely rich and powerful 3 lovers – Charles, Lu Tianchen and Albert.
Charles is a rich tycoon, a casanova, playboy who smuggles weapons. He's fun and is totally crazy over Tang Feng.
Lu Tianchen is the rich billionaire and President of Tianchen Entertainment (Tang Feng's agency). He's gentle and thoughtful but his secret profession is actually an assassin!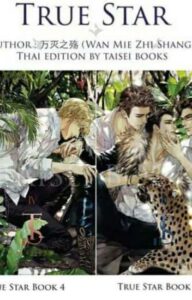 Albert is the wealthiest and most powerful of them all. He is dangerous, cruel and famous for his perverseness. He is well-connected to the underworld gangs. There's absolutely nothing he cannot lay his hands on!
These 3 men tried their ways to get onto Tang Feng's bed, Charles even resorted to drugging and raping Tang Feng whilst Albert just raped Tang Feng (yeah.. he just did it! to have his own way). With Lu Tianchen is more of a romantic love.
It's a strange 3-some love relationship when we have 3 naked gentlemen here sleeping naked on the bed and yet not having an orgy! Oh gawd….the author teased my muddled brain!!! One protecting Tang Feng from being sexually harassed by the other… "Don't you dare lay hands on him!!!"… "I don't want to lose out!" "You sleep naked so I must sleep naked too!!!"  HAHAHAHA!!! 🤣
This is just like 3 big kitty cats keeping their watchful eyes on one another around little witty Twitty bird in its cage. The 3 big kitties waiting to see who makes the first move to get Twitty in their claws first or when to pounce at little pretty Twitty when the others are not looking. Can you guess the outcome? Who gets pretty witty little Twitty in the end?
There were many hilarious scenes not only with these lovers but also with Tang Feng's Hollywood co-star Michael Gino who has a crush on Tang Feng. It was surely very tough on him having to film a bed scene with Tang Feng.
The novel is also about the glamour and shadiness of the entertainment industry. It is also about Tang Feng's will power against temptations and sticking to his principles; his diligence, and his never-say-die attitude when faced with scheming jealous adversaries.
The novel is a bit draggy towards the end, but all the more the author brings out the beautiful scenes, develop the story and making the characters even more real and endearing. I found myself sobbing towards the last few chapters but everyone still loves a happy ending!
I didn't have much expectations on this novel to begin with, thinking that the plot wasn't too deep but I was wrong. I'll rate this novel 4/5.
If you love to read about rich and glamourous famous superstars, glitzy showbiz, sugar daddies and principled-protagonist, read this novel! Other similar novels include Superstar Aspirations and Rebirth of a Movie Star, but I still like True Star best.
English Translation: In Progress
Read here:
2) http://giraffecorps.net/truestar01-001/
3) https://hutnovel.blogspot.com/2020/01/true-star-v2-chapter-37-1.html
Chinese Raw: