The Princess Imprints the Traitor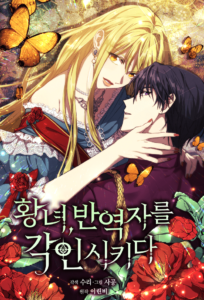 Chapters: 56
Status: Ongoing
Genre: Adventure, Drama, Fantasy, Historical, Manhwa, Romance
Ratings: 5/5
Synopsis:
The seventh Imperial princess, Evenrose, once died.
Her last memory was when the royal family was destroyed by the Homunculus, who caused treason and was drowned in the scheme of their brother standing on their side, by swallowing poison. But when she opened her eyes again,
"I…I'm not dead."
She realizes that she's back to the past and was eight years younger. It was before the third emperor, who will be the next heir, was officially chosen as the successor. An opportunity to prevent the fall of the imperial family by pressing the third emperor Bridgette and being recognized as the successor. As part of the preparation, Evenrose decided to write her own article about Michael, the king of Homunculus and the monster of public prison, in order to win the emperor's heart.
"I need you, Michael. Very badly."
Will Evenrose be able to get him and protect the imperial family safely?
Review
*MIGHT CONTAIN SPOILERS! READ IT AT YOUR OWN RISK! IF NOT, READ THE REVIEW ON MY IG PAGE.*
Y'all have no idea how long I have been waiting to read this (because I only read manhwa above 50 chapters). I really love this plot line and it did not disappoint at all. It is typical, interesting and just the way I like it. 
Many said that she committed suicide at the start but I will not say that she did that. I think she was just pressured into killing herself but I'm glad that she started to know that there are a lot of people who care about her in her second life. FL is basically not the same as the other royalties that was why she did not take up a "slave". It also made a lot of them (the "slaves") want to work under her because she has been fighting to remove this tradition and for their rights as humans. I guess that was what made her stand out but her introverted and stubborn self might be the end of her. The ML on the other hand loves her a lot and wants to just keep her by his side. Nothing to say about the ML because the main person ain't really the ML after all. I am extremely excited about how they will overrule the imperial family (it is ALWAYS the imperial family doing crude stuff) and I hope that they will live happily ever after.
To be honest, I thought I would love this couple as much as Recording Hall but not really. Maybe it was kind of the chemistry they have? But I definitely like the ML a lot in terms of visuals I guess. It is not possible to dislike a good-looking guy right?
Characters
*Lazy*
Other Links
Novel
Spoiler
Social Media
You might also like:
A Way to Protect the Lovable You
~ THANK YOU ~
Follow @watashiwakurousagi for more!